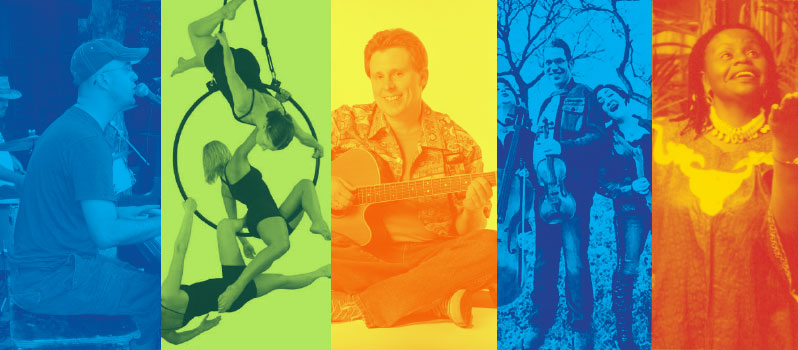 Performing Arts Corps Grants
NOTE: This program is currently inactive. Please check this page for updates.
Available to elementary schools statewide, Performing Arts Corps grants provide schools two workshops and a performance by one of our Performing Arts Corps artists. The program is offered at a minimal cost and time commitment to schools, with a streamlined application process for convenience.
Performing Arts Corps Artists
The Performing Arts Corps is comprised of artists listed on our Performing Artist Roster. Each artist or group has demonstrated an ability to work in an educational setting, and has developed curriculum for their respective areas of focus. Curriculum is available to teachers to use with future projects and is easily integrated with other subjects.

Below is information about artists, programs, fees, and curriculum. For contact information click on the name of the artist (Artists are not employees of the Oklahoma Arts Council).
Improv Theatre
Somebody's Hero presents a 50 minute performance of hilarious improvised scenes based on audience input, with a purpose. We use improv to teach techniques for responding to bullying behaviors. Kids (grades 2-6) will learn the basics of comedy improv as we empower them to become a friend in need. In our workshops kids play various improv theater games, gaining hands on experience at working cooperatively to create spontaneous scenes.
Modern Dance
Perpetual Motion's program focuses on creative movement explorations through the use of music, poetry, and visual arts. In their workshops, students will have an opportunity to play improvisational games, work collaboratively with their peers, and engage in creative problem solving through movement.
Music
The Sugar Free Allstars are a fun and funky two-piece band with lots of energy. In their workshops students will learn about three of the elements of music: beat, tempo and rhythm. Through speaking, singing, movement and performance students will discover and explore these concepts in an interactive and entertaining environment. Clear the floor 'cause we're gonna have a party while we learn about music!
Music (Instrumental)
Tulsa Rock Quartet
Cost to your school: $625 (5 artists)
Download curriculum (coming soon)
Tulsa Rock Quartet bridges the gap between classical music, rock music, and all worlds in between. Through the addition of a drummer (making an ensemble of 5) and contemporary arrangements, Tulsa Rock Quartet brings excitement and imagination to classical music, giving orchestral instrumentation renewed relevancy. Students will enjoy innovative performances and workshops exploring the logic, science and poetry of music making, and will gain a greater appreciation and understanding of music.
Songwriting
Children's songwriter Monty Harper teaches and entertains with his award-winning "Wacky Witty Way-Out" songs, featuring humorous stories, wordplay and plenty of audience interaction. Students will create lyrics and music while learning the basics of songwriting; they will stretch their creative and cooperative muscles while developing new language and analytical skills. Songwriting is a fantastic motivational tool to help students process and communicate new ideas.
Storytelling
DWe Williams is a noted dramatist who uses storytelling as a tool to enhance the learning process. Williams' team of two artists will explore selection, preparation and performance of stories. In their workshops, students will create and participate in storytelling and learn the value of this oral tradition in society. Lend your voice, open your ears and share the stories "folk" will love to hear.
Guidelines
Each program consists of two 50-minute instructional workshops facilitated by the selected Performing Arts Corps artist and one school wide performance by the artist. Each program is a pre-packaged program based on established Performing Arts Corps curriculum.
Workshop Guidelines
Each workshop is intended for the same group of 4th or 5th grade students.

No more than 30 students are allowed in each workshop.

At least one teacher must be present throughout the entire workshop. Teacher will participate in workshop activities, provide classroom management and assist artists as needed.
General Guidelines
Schools are responsible for contacting artists to schedule a program. Schools and artists must agree to specific times for workshops and school wide performance. Before a grant can be approved schools must submit a signed Performing Arts Corps artist contract to the Oklahoma Arts Council as support material for their application.

Schools are responsible for providing the minimum technical support requested by artists (example: floor/stage space, dressing rooms, restroom facilities, electrical outlets).

Schools are responsible for paying artists prior to grant reimbursement.

Each Performing Arts Corps group is composed of a set number of artists.

The Oklahoma Arts Council has on file a copy of an OSBI background check for all artists participating in the Performing Arts Corps program.

Complete applications are due no less than thirty days prior to the planned performance.
To Apply
Request a login for our e-Grant system.
If you do not have a login for our e-grant system, click here to request one.

Contact the artist. Finalize a contract with the artist and mail us a copy.
Contact a Performing Arts Corps artist and agree on a program date. Finalize a contract with the artist. Mail a copy of the contract to the Oklahoma Arts Council as support material for your online application.

Apply for a Performing Arts Corps grant.
Log in to our e-grant system and complete the Performing Arts Corps application. A notice of approval for funding will be emailed to you. (You may view the status of your application at any time by logging into the e-grant system).

Have your school's Authorizing Official approve the grant.
If we approve your application, an Authorizing Official (Prinicipal or Superintendent) from your school must log in to our e-grant system using his/her username and password, and approve the Oklahoma Arts Council contract electronically.

Enjoy the program. Pay the artist. Complete a final report.
After the program, be sure to pay the artist the full amount (artistic fees and travel). Then complete a final report within 30 days by logging into the e-grant system.

Receive payment.
Our grant will reimburse you for 75 percent of the artistic fees and 100 percent of eligible travel cost (this amount is automatically calculated and shown during the online application process). Expect payment within 2-4 weeks following submission of online final report. Funding breaks down as follows:

School's cost = 25% of artistic fees.
Grant award = 75% of artistic fees and 100% of eligible travel costs.
Because funding is limited awards will be made on a first-come, first-served basis.
Questions?
For more information please contact our Arts Education Director.