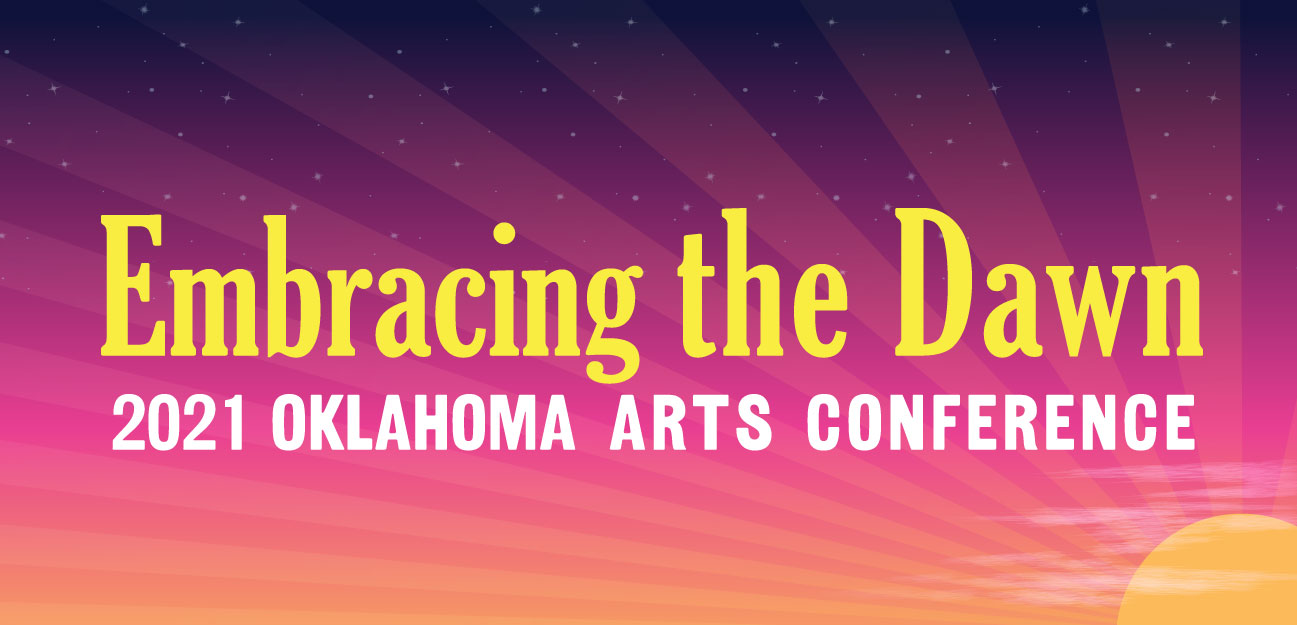 2021 Oklahoma Arts Conference
Conference Schedule
Pre-conference
Wednesday, October 27, 2021
Thursday, October 28, 2021
Friday, October 29, 2021

10:00am - 12:00pm
Oklahoma Black Arts Leaders Affinity Group Meeting
Location: Martin Luther King Community Center, 300 W. Martin Luther King St.
Room: Meeting Room
Presenters: Michelle Brown-Burdex - Moderator, Camille Landry - Moderator
Affinity groups are a safe and protected environment that allow community members who share a common cultural or social identifier a means to foster collective peer support. For any artist or arts leader who identifies as Black or African American, the Oklahoma Black Arts Leaders Affinity Group Meeting will provide a safe space to affirm identity, build community, and cultivate leadership. The group will work together to discuss common issues and innovative opportunities for working together in the future. The guiding principle for this affinity group is based on Dr. Beverly Daniel Tatum's ABCs approach for inclusive leadership:

· Affirming Identity

· Building Community

· Cultivating Leadership

This meeting does not require conference registration. To RSVP, please email Eyakam Gulilat at eyakem.gulilat@arts.ok.gov.

1:00pm - 4:00pm
Executive Directors Roundtable
Location: Muskogee Little Theatre, 311 S. 3rd Street
Room: Lobby
Presenters: Scott Stulen - Moderator, Eddie Walker - Moderator, Coni Wetz - Moderator, Margie Reese - Presenter

Executive directors from Oklahoma's arts organizations will convene in an informal roundtable forum. This session will provide a space for executive directors to collectively discuss and address common challenges organizations have faced due to the pandemic, including changes in societal norms and workplace burnout. The group will work together to share innovative approaches for moving forward in turbulent times. Additionally, the second half of the program will focus on how organizations can work collaboratively to strengthen values, policies, and practices that foster a more diverse, equitable, inclusive, and accessible arts community. This roundtable session does not require conference registration, but individuals must RSVP to attend. To RSVP for this special pre-conference event, please email Oklahoma Arts Council Community Arts Director Cayla Lewis at cayla.lewis@arts.ok.gov no later than Friday, October 22.

1:00pm - 4:00pm
The Oklahoma Cultural Arts, Heritage, and Folk Art Forum
Location: Ataloa Lodge Museum at Bacone College, 2299 Old Bacone Rd.
Room: Museum
Presenters: Lisa Rathje - Presenter
Traditional art forms steeped in the history of the diverse people and cultures of Oklahoma are inseparable from our identity as a state. These art forms are uniquely handed down from one generation to the next through informal yet meticulous practice, and because they are precious resources, they deserve our full attention. As the Oklahoma Arts Council embarks on a new initiative to support and elevate Oklahoma's rich folk and traditional arts and cultures, we are pleased to offer this important forum.

"Embracing Folk and Traditional Arts for a New Day"
Led by Lisa Rathje, Executive Director, Local Learning
Throughout Oklahoma and beyond, educators, artists, and citizens are faced with identifying ways to address contemporary issues with creativity, research, and empathy. This interactive presentation and workshop will share case studies and proven models that engage traditional arts and the disciplinary toolkit based in ethnography to strengthen communities, build resilience, and create opportunities for cross-cultural understanding.

As Executive Director of Local Learning, a national arts service organization for folk arts in education, Lisa Rathje has witnessed the transformative power of bringing a cultural lens to bear on complex challenges. Just as it is for students, so it is for organizations and arts leaders. Engaging traditional arts and community-based artists contributes not only to a deeper understanding of culture and community, but offers pathways to diverse perspectives through community-based aesthetics, connectedness between and among cultural groups, and healing based in creative expression.

5:00pm - 9:00pm
Blues at Dusk: A Special Pre-Conference Gathering in Rentiesville
Location: Oklahoma Blues Hall of Fame, 103020 DC Minner Street
Room: Down Home Blues Club
Gather with your peers from across the state to enjoy an evening of live music and merriment at the Down Home Blues Club and the Oklahoma Blues Hall of Fame in Rentiesville, Oklahoma. The historic juke joint and landmark was originally the childhood home of famed blues musician D.C. Minner. The site now serves as a historic museum, recording studio, performance site, and the home of the annual Dusk Til' Dawn Blues Festival. This come-and-go event will take place from 5:00 to 9:00 p.m., and activities will be both indoors and outdoors. Local blues musicians Harold Aldridge, Jr., Lem Sheppard, and Selby Minner will perform throughout the evening. Local food vendors will provide guests a taste of the local flair, including soul food, barbecue, and down home cooking.

Rentiesville is located approximately 25 minutes south of Muskogee just off of Highway 69. Shuttle buses will be available to transport guests to and from Muskogee's hotel district to Rentiesville.
Receive updates about the Oklahoma Arts Conference.
Questions?
For more information contact our Assistant Director.