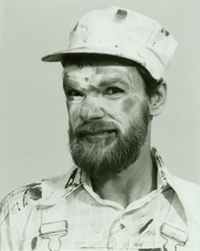 Contact Information:
Joe Long
1845 NW 11th Street
Oklahoma City, OK 73106
Phone:
(405) 826-7384
(405) 524-0955

Email:
Discipline:
Theatre: Mime
Participants:
Childhood, Adolescents, Adults and Intergenerational
Availability:
Statewide, year-round
Bio:
Joe Long is a noted mime artist who studied with world famous mime, Thomas Leabhart. He has worked in numerous classrooms across the state and has a special interest in working with students who need adaptive arts services or who have various disabilities. He has worked extensively with VSA Arts of Oklahoma. Joe's residencies begin with basic pantomime skills and continue with theatre games, trust exercises, juggling, cooperation and competition games, and can bring to the classroom lessons in goal setting. Students enjoy being involved in the mime and movement activities and the new skills they develop through theatre arts.
Learning Goals:

Learn basic pantomime skills - wall, rope, robot, and mannequin
Understand non-verbal and body communication
Establish trust and collaboration skills
Build positive self-concept