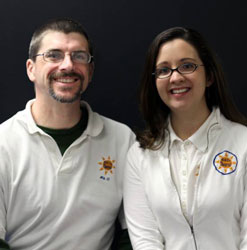 Contact Information:
Kid Co Theatre
Ben and Lia Oldham

Phone:
(405) 563-5437
Email:
lia@okkidco.com
ben@okkidco.com
Website:
Discipline:
Theatre
Participants:
Early Childhood, Elementary, Middle School, Hight School, Youth with Disabilities, At-risk Youth
Settings:
Schools: Pre-k, Elementary, Middle School, High School
Community Sites: Parks & Recreation Centers, Arts Centers, Childcare Centers, Libraries

Availability:
Statewide, Year-round

Bio:
Ben and Lia Oldham founded Kid Co Theatre after more than 15 years of directing and teaching children's theater. All Kid Co Theatre programs utilize a process of collaborative play creation that Ben and Lia developed while teaching drama in schools and in professional theaters. Their process motivates students to work together to achieve a common goal: creating an exciting, original play. Kid Co Theater residencies not only provide quality learning in the skills and knowledge of theater, but they also enhance student literacy, collaborative skills, listening and speaking skills, as? well as the ability to emote or relate to the experiences and feelings of others.
Through highly engaging residencies, after-school programs, summer camps, fully-staged productions, and workshops, Kid Co Theatre's creative thinking environment gives students the tools they need to reach their full potential artistically and academically.

"We believe that giving children the opportunity to develop vital life skills in a theatrical environment will help them to grow into strong capable adults. The process of creating and developing theatre asks students to practice these 21st century skills, including goal and time management, adaptability, critical thinking, problems solving, and effective interpersonal interaction. We have developed our process of collaborative play creation because we believe that is a great way to teach these skills which will help children successfully navigate their way through the world."
Learning Goals:

Playwriting/Storytelling
Creating a Character
Theatrical Performance skills
Collaboration & Problems Solving Skills
Listening & Speaking Skills
Enhanced Literacy Skills