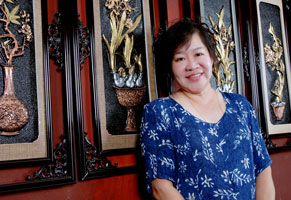 Contact Information:
Kristie Ming Tan Ngo
1113 SW 129th St.
Oklahoma City, OK 73170
Phone:
(405) 378-7311
Email:
Website:
Discipline:
Visual Art: painting
Participants:
Adults, Older Adults, Youth with Disabilities, Adults with Disabilities
Settings:
Community Sites: Parks & Recreation Centers, Arts Centers, Libraries, Senior Centers, Health Care Facilities
Availability:
Central Oklahoma, NW Oklahoma, SW Oklahoma, Year-round
Bio:
A native of Malaysia, Kristie Ming Tan Ngo immigrated to the United States in 1992. Primarily using bamboo brushes, her unique and fascinating illustrations explore the ancient and mystical realm of Chinese watercolor brushwork. In addition to earning numerous awards, in 2007, Ngo's artwork A Scissortail Returns was showcased in the Oklahoma Centennial Chinese Cultural Exhibition and is now permanently part of the Oklahoma History Center collection.
Ngo teaches her art to children, teenagers, adults, and older adults, using media ranging from traditional rice paper to paper plates. Her students have made bookmarks, greeting cards, traditional fans, and more. Combining Japanese origami (the art of paper folding) with Chinese watercolors, Ngo creates fantastic 3D art. More recently, she began painting on innovative mediums such as ceramic tiles, flat stones, rock, and t-shirts. During her residencies, Ngo translates the American names of her pupils into Chinese characters and has students write their Chinese name on their artwork. She is now mainly focused on providing instruction for adults and older adults in community centers, libraries, and museum-sponsored programs.
Learning Goals:

Students will:
Apply new knowledge and skills as a basis for creative expression.
Gain greater understanding and appreciation of different art forms and arts of diverse cultures.
Begin learning parts of another language by using bamboo brush to write Chinese calligraphy.