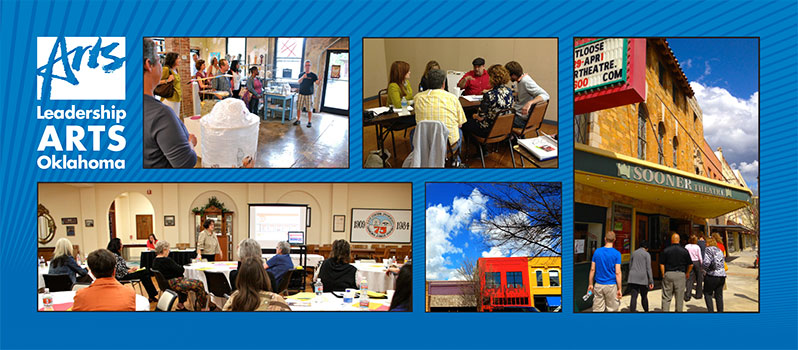 The Oklahoma Arts Council's Leadership Arts program equips approximately 30 participants from throughout the state each year to become leaders and advocates for the arts in their communities. During four two-day sessions, selected participants learn about the arts' role in community and economic development, education, and quality of life.
2015 Leadership Arts Class Members
Ada, Bethany Walling (East Central University)
Apache, Alicia Seyler-Nevaquaya (Nevaquaya Fine Arts)
Ardmore, Lucy Hicks (Ardmore Little Theatre)
Blackwell, Dianne Braden (Tonkawa Arts and Humanities Council)
Checotah, Iris Park (Heartland Heritage Center Museum & Gallery)
Elgin, Sarah Godsave (Big Pasture Cultural Arts Foundation)
Enid, Kelly Tompkins (Enid Main Street)
Guymon, Miranda Gilbert (City of Guymon)
Hulbert, April Stone (Locust Grove Children's Community Theater)
Miami, Ben Whaley (Northeastern Oklahoma A&M College)
Mustang, Lynly Grider (Kimray, Inc.)
Norman, Kelley Lunsford (Chickasaw Nation)
Oklahoma City, Chandra Boyd (Oklahoma Arts Council)
Oklahoma City, Donald Jordan (Oklahoma City Repertory Theatre/City Rep)
Oklahoma City, DWe Williams (Rhythmically Speaking)
Oklahoma City, Grace Gordon (KOSU and The Spy FM)
Oklahoma City, Donna Cervantes (Historic Capitol Hill)
Oklahoma City, Vernona Dismuke (Unified Dimensions)
Oklahoma City, Kim Haywood (deadCENTER Film)
Overbrook, Brian Gunter (Ardmore City Schools/Ardmore High School)
Perkins, Laura Clark (WildHorse Consulting LLC)
Pryor, Rebekah Hawkes (Woody Guthrie Center)
Rush Springs, Jason Poudrier (Cameron University)
Salina, BJ Cummings (Pryor Main Street)
Shawnee, Andrea Ellis-Harrison (Seminole Nation of Oklahoma)
Stillwater, Louise Siddons (Oklahoma State University)
Tahlequah, Callie Chunestudy (Cherokee Arts Center and Spider Gallery)
Texoma, Brent Shoulders (Oklahoma Panhandle State University)
Tulsa, Grace Grothaus (George Kaiser Family Foundation)
Tulsa, Marjorie Atwood (Atwood Art Studio)
Tulsa, Maureen Brown (Discovery School of Tulsa)
Tulsa, Bobby Lee (National Resource Center for Youth Services at OU-Tulsa)
Welch, Lana Chapman (community volunteer)
Woodward, Michelle Murray (E&H Transfer)
Yukon, Kathy Rawdon (The fresh stART Studio at the Homeless Alliance)
Click here to view past Leadership Arts graduates
2015 Leadership Arts Sessions
February 25-26 (Chickasaw Retreat & Cultural Center in Sulphur)
March 25-26 (Guthrie)
April 22-23 (Bartlesville)
May 20-21 (Oklahoma City)
October 21-22 (2015 Oklahoma Arts Conference in Tulsa)
About Leadership Arts

Who Can Benefit from Attending?
Staff or board members of arts organizations, artists, civic leaders, economic and community development staff, school board members, community citizens, and business leaders.
What You Will Learn
Leadership Arts curriculum is designed for adult learners across cultural and educational backgrounds. Participants will learn why and how the arts make a significant contribution to Oklahoma's economy, how communities have developed arts programs and vibrant arts spaces to enhance quality of life, how the arts improve the image of cities and neighborhoods while serving as a centerpiece for community engagement, and how the arts cultivate creativity, attracting and retaining a creative workforce.
Sessions are interactive and will expand participants' understanding of group dynamics and the value of group work. Leadership Arts will help you better articulate and advocate for the arts in Oklahoma, design strategies for employing local assets for cultural development, work towards creative partnerships and consensus building, and teach you to mobilize your leadership capacity and the capacity of others.
How Leadership Arts is Structured
Approximately 30 participants are selected each year from a list of applicants to attend four two-day sessions during the spring (the application period takes place in the fall). Participants are selected from communities throughout the state, with an emphasis placed on geographic diversity. Participants are required to attend the Oklahoma Arts Conference in the fall to graduate from the program.
Sessions are devoted to hands-on learning, group work, panels of community members who discuss the arts in their area, and tours of community arts spaces. Reading assignments are emailed to participants prior to each meeting.
How Much Does Leadership Arts Cost?
The program and curriculum are free but class members do incur costs for food, lodging, and travel. The average cost per session is $150 - $200. Class members often represent organizations that will benefit from the training and are willing to cover these costs.
Click here to view past Leadership Arts graduates

Questions?
For more information contact our Director of Cultural Development.