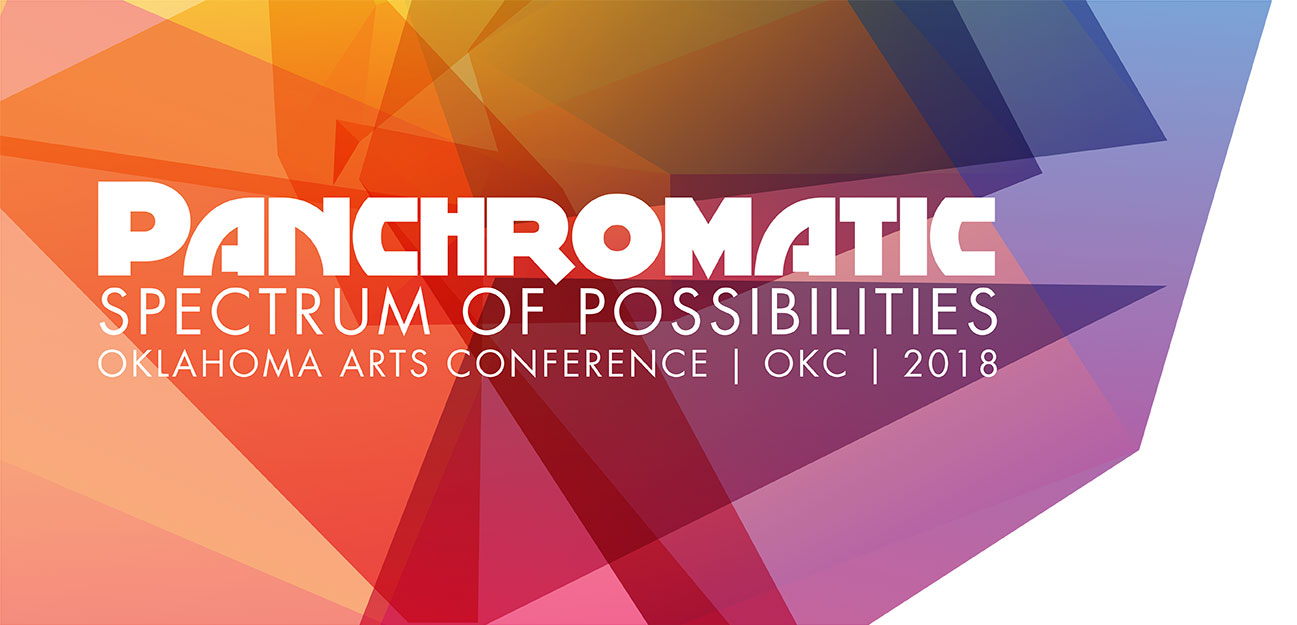 2018 Oklahoma Arts Conference
Conference Schedule
Pre-conference
Tuesday, October 23, 2018
Wednesday, October 24, 2018
Thursday, October 25, 2018
Post-conference
Friday, October 26, 2018

9:30am - 11:00am
Finding Your Largest Vision
Room: TBD
Presenters: Arlene Goldbard

Too often, the artist's story is shrunk to the size of a pea: Someone has a talent for drawing or singing, acting or dancing; that person finds a way to study and practice; questions of livelihood become part of the conversation; and, compromises are made. As an artist, you have the choice to see yourself merely as, 1) someone who hopes to exchange artistic skills for money and attention; or, 2) someone who is always in the process of becoming an instrument of beauty and meaning, who is always learning to show up in an integrated state—fully present and engaged in all dimensions—and who therefore has a very special role to play in the world. In this session for artists, we will start by exploring what sets you on your path as an artist, and we will dream into your largest vision for what it can mean to you and to the world.

9:30am - 11:00am
Improvising the Haitian Way: A Movement Workshop
Room: TBD
Presenters: Marie Casimir

Learn Afro-Haitian movement blended with contemporary improvisation practices. This workshop features movement vocabulary rooted in folklore and contemporary Haitian social dance that can be transformed into your own authentic movement. A writing exercise will be included to enhance participants' understanding of interdisciplinary creation and exploration. Teaching rhythm, undulation, improvisation, writing, and adaptation, this workshop is open to everyone.

9:30am - 11:00am
Telling Your Story: Data Collection to Demonstrate Local Impact
Room: TBD
Presenters: Kelly Tompkins

Place-based work is multifaceted, and its value is something the field is still learning to communicate. During this session, Oklahoma cultural district leaders will discuss practical, successful methods for illustrating the impact of their community-building work. Acknowledging the diverse interests of their varied stakeholders, presenters will address the qualitative data they collect—both within their organization as well as from outside sources—and describe what relationships may be necessary to collect data effectively. Finally, presenters will share do-it-yourself tools and ideas for how to visually communicate your message.

2:00pm - 4:30pm
Harnessing Collective Creativity: Soundpainting Workshop with Nicole Poole
Room: TBD
Presenters: Nicole Poole

In this unique workshop, participants will be immersed in a world of collective creation through "soundpainting," a revolutionary compositional sign language developed to structure multidisciplinary, collaborative improvisations. In its basic form, through gesture, a composer, or "soundpainter," relates to a group of performers who then perform their interpretation of the gesture. The resulting composition is uniquely collaborative. Bring your instruments or use your imagination and bring anything that can make a sustainable and repeatable noise of any kind. Use the conference theme, "Panchromatic," as inspiration for vocal material such as "Purple Rain" or "Yellow Submarine." Visual artist? Bring color to create a visual sound. All participants will be given a packet containing the basic soundpainting gestures to bring back to their own communities. Fast-paced and fabulously fun, performers and "civilians" alike will lend their talents to create the Oklahoma Arts Conference's first-ever collaborative orchestra!

2:00pm - 4:30pm
Managing Your Money: Capitalization Principles that Lead to Success
Room: TBD
Presenters: Janet Brown

Arts organizations of all sizes—small, medium, and large—benefit from understanding capitalization principles that lead to successful fulfillment of missions over time. This workshop will engage participants in a conversation on the proven principles of managing funds. Topics covered will include: types of capital, facility ownership, endowment campaigns, expansion of operations, and more. Encouraged by funders, donors, managers, and artistic directors, the nonprofit culture of the past 50 years has left the sector undercapitalized. It's time for a change.

2:00pm - 4:30pm
Story Circles for Civic Dialogue and Art-Making: An Interactive Workshop
Room: TBD
Presenters: Arlene Goldbard
A story circle is a small group of individuals sitting in a circle, sharing stories—usually from their own experience or imagination—focusing on a common theme. Each person gets equal time and attention and no interruptions or contradictions, then the group reflects on the body of stories that were shared. Story circles a way to share experiences, exploring commonalities and differences, to have a real dialogue around potentially polarized issues, and to surface stories for use in devising theater, murals, or other arts projects.

As stories are layered, complexity and richness emerge, and so do underlying commonalities between participants and onlookers. The sum of any story circle is a multidimensional exploration of its theme, making the points that there isn't one way to look at any topic or situation, and that everyone's story adds wisdom, shedding light where it's most needed.

Goldbard will help workshop participants learn to master story circles as a powerful democratic dialogue tool. Detailed written instructions will be provided as a takeaway.

2:30pm - 4:30pm
Ekphrastic Writing
Room: TBD
Presenters: Jeannetta Calhoun Mish

Meaning "description," ekphrasis is a term that originally referred to one of the rhetorical practices a skilled speaker should master. Over time, ekphrasis has come to refer to the close observation and description of specific works of art, including visual art, sculpture, and even music. A looser definition includes descriptions of the physical and mental processes involved in creating art, descriptions of the origins of a work of art, and descriptions of imaginary or non-existent works of art as if they existed in reality. For this workshop, participants will receive a 10-minute overview of ekphrastic writing techniques (poetry and prose), then they will be free to roam the museum to find a work of art that inspires them to write.
Questions?
For more information contact our Assistant Director.