Frontier Trade, 1790 - 1830
by Charles Banks Wilson
Oil
Commissioned by the Oklahoma Legislature in 1970
Dimensions: 156 x 324
Dedicated November 16, 1976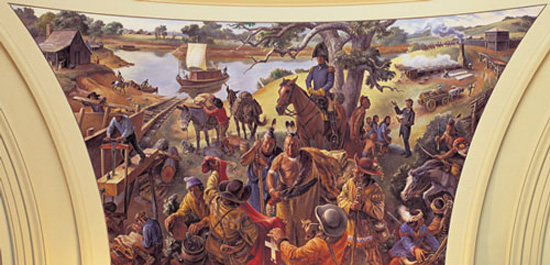 The Artwork
The abounding interest in the portraits of Robert S. Kerr, Sequoyah, Jim Thorpe, and Will Rogers painted by Charles Banks Wilson sparked the 1970 legislature to commission Wilson to create four murals depicting the history of Oklahoma from 1541 to 1906. Wilson spent four years researching his subject matter. Each person depicted was illustrated from life and Wilson utilized clay models before painting each scene. The 13 by 27 foot linen canvases were woven in Belgium. The murals were mounted on Fiberglas with hot wax resin adhesive and then placed thirty-six feet above the floor. On Statehood Day in 1976, Carl Clark and Betty Price co-chaired the dedication committee. During the ceremony, historian Dr. A.M. Gibson spoke about the historic murals.

The years 1790 to 1830 were marked by a rising interest in Oklahoma territory. In the mural Frontier Trade, Wilson depicts a bustling scene of rising commerce. Fur trading posts and salt exporting businesses flourished as boats were built along the Arkansas River. Native Americans considered the area their eternal home causing tension among the Native American and the new settlers resulting in numerous forts being built to protect the settlers as shown in the upper right side of the mural.
The Artist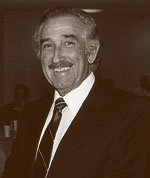 Charles Banks Wilson was born in 1918 in Arkansas and grew up in Miami, Oklahoma. Educated at the Art Institute of Chicago from 1936-1940, he was given an award from the Chicago Society of Lithographers and Etchers, and his work was added to the Art Institute collection. While at the Art Institute, he also began a project whereupon he sketched portraits of numerous members of Oklahoma's American Indian tribes – a project that would soon become a lifelong artistic journey.

Wilson completed his education in Chicago and later returned to Oklahoma in 1943, where he established a permanent studio in Miami. Two years later, he began teaching night classes in drawing at Northeastern Oklahoma A&M College. Eventually he became head of the art department, a position he held until 1960. During this period he continued to illustrate books and produce lithographs from his own press.

In 1957, he completed his first portrait commission for Tulsa oil man and collector Thomas Gilcrease. Perhaps one of Wilson's greatest achievements came when the U.S. Senate selected four of his paintings to be shown in 20 world capitals. In 2001, he was named an Oklahoma Cultural Treasure and is a member of the Oklahoma Hall of Fame.