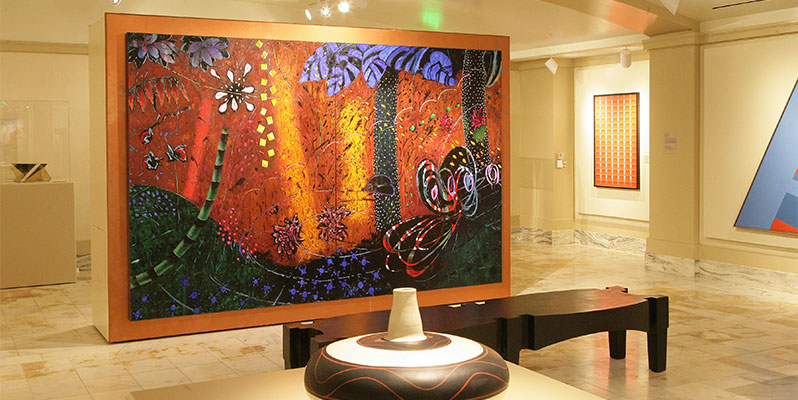 Oklahoma State Art Collection
Reopening Early 2023!
Exhibitions return to the Oklahoma State Capitol galleries in early 2023, following completion of the multi-year restoration of the historic building.
About the Collection
A collection of works by notable Oklahoma artists, the State Art Collection was established in 1971 as a visual anthology of the history of artistic expression in Oklahoma. Works within the collection reflect the history and diversity comprising Oklahoma's cultural fabric. The Oklahoma Arts Council manages and cultivates the collection by continuing to acquire donated works. Select works from the collection are exhibited in the Betty Price Gallery at the Oklahoma State Capitol. In 2006, state leaders approved the creation of the gallery in the Capitol to showcase the collection. The museum-quality space, which opened November 16, 2007, is the realization of the founding members' vision for a permanent facility for the remarkable collection.
View works in the collection:
Guidelines for Donating Artwork
Individuals may submit proposals for artwork to be added to the collection. Artwork is acquired through donation only. Proposals are reviewed by the State Art Collection Committee. View submission guidelines.
Copyright
Visitors are permitted to photograph the artwork at the Oklahoma State Capitol, however all works are copyrighted and cannot be reproduced.
Request an Image
Requests to reproduce images of state-owned artwork managed by the Oklahoma Arts Council may be submitted using the Artwork Image Request Form.
Questions
For more information, contact our Curator of Capitol Exhibitions.