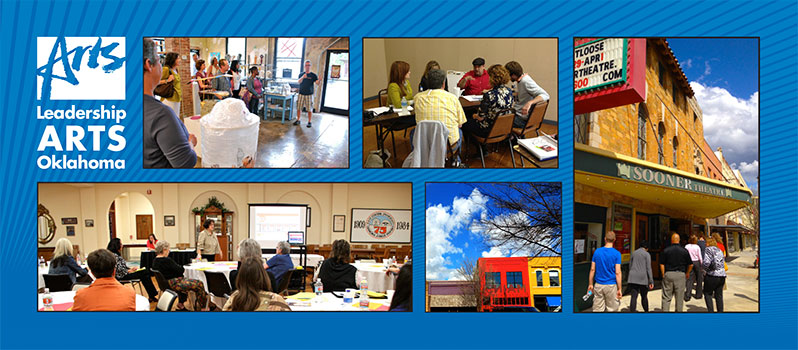 About Leadership Arts
The Oklahoma Arts Council Leadership Arts program equips 30 individuals from throughout the state to become leaders and advocates for the arts in their communities. During four two-day sessions held in the spring, selected participants learn about the role of the arts in economic development, education, and quality of life. Participants attend the Oklahoma Arts Conference in the fall where they graduate from Leadership Arts during a special ceremony.
Who Can Benefit from Leadership Arts?
Oklahomans involved in arts and non-arts fields can benefit from participating in Leadership Arts. The program offers tools for individuals working in any field who have an interest in using the arts to improve their local communities and schools. Participants have included staff and board members of nonprofit organizations, artists, community developers, business leaders, tribal representatives, civic leaders, educators, community volunteers, and others.
2020 Leadership Arts Class
Matthew D. Davids, NBC Bank (Altus)
Angelica Brady, City of Alva (Alva)
Cheryl Key, Key Holdings, Inc. (Ardmore)
Rob Houston, Visit Enid (Enid)
Laura Calvery, Holdenville Society of Painters and Sculptors (Holdenville)
Becky Lucht, Muskogee Art Guild (Hulbert)
Faith Phillips, ReadBooksBy.faith (Locust Grove)
Jason Wilson, Hartshorne Public Schools (McAlester)
Marcia Johnson, City of Miami (Miami)
Ryan Orcutt, City of Miami/Northeastern Oklahoma A&M College (Miami)
Mary Hoopes, Muskogee Art Guild (Muskogee)
Justin O'Neal, Greater Muskogee Area Chamber of Commerce & Tourism (Muskogee)
Tonnie Dosser, Oklahomans for the Arts (Norman)
John Roberts, Cleveland County (Norman)
Amanda Bleakley, Paseo Arts Association (Oklahoma City)
Alyx Picard Davis, deadCENTER Film (Oklahoma City)
Lauren Florence, Lauren Florence Art (Oklahoma City)
Lindsey Flowers, VIKASA Capital (Oklahoma City)
Am're Ford, Arts in Action, Inc. (Oklahoma City)
Rachael Leonhart, Lyric Theatre of Oklahoma (Oklahoma City)
Laura Massenat, Factory Obscura (Oklahoma City)
Thuan Nguyen, Asian District Cultural Association (Oklahoma City)
Helen Opper, Oklahoma City Community College/The Art Hall (Oklahoma City)
Thomas Tran, Oklahoma Arts Council (Oklahoma City)
Kathleen Watkins, Spiritually Bold Inc. (Oklahoma City)
Ed Bolt, City of Shawnee (Shawnee)
Pouya Jahanshahi, Oklahoma State University (Stillwater)
Jennifer Johnson, Prairie Arts Center (Stillwater)
Destiny Rosato, City of Blackwell (Tonkawa/Blackwell)
Michelle Brown, Greenwood Cultural Center (Tulsa)
Lincoln Cochran, Tulsa Public Schools (Tulsa)
Kaley Jobe, Beck Design (Tulsa)
Aleks Kitchens, ahha Tulsa (Tulsa)
Larry Hill, Larry K. Hill Studios (Woodward)
2020 Timeline
November 1, 2019: Leadership Arts applications are available
November 29, 2019: Leadership Arts applications are due
December 2, 2019: Deadline for M-AAA Professional Development Support for Leadership Arts applications (see Financial Assistance below)
December 20, 2019: Class members are notified of acceptance
January 3, 2020: Class members must confirm their participation by this date
January 31, 2020: Full tuition is due to the Oklahoma Arts Council
Early February, 2020: Official announcement of 2020 Leadership Arts class
February 27-28, 2020: Class Session 1 (Quartz Mountain)
March 26-27, 2020: Class Session 2 (Durant) postponed due to the pandemic
April 30-May 1, 2020: Class Session 3 (Ponca City) postponed due to the pandemic
May 28-29, 2020: Class Session 4 (Oklahoma City) postponed due to the pandemic
May 5-7, 2021: Oklahoma Arts Conference (Muskogee)
How Much Does Leadership Arts Cost?
Tuition for 2020 Leadership Arts is $499. Tuition covers program costs, materials, on-site transportation, and a discounted registration rate for the Oklahoma Arts Conference. Tuition must be paid no later than January 31, 2020 (payment instructions will be provided to individuals selected for the class). Class members are responsible for paying for their own travel, lodging, and meals for the four spring class sessions and the Oklahoma Arts Conference. Businesses and organizations are often willing to pay all or some of the costs for employees or representatives of their organization to participate in Leadership Arts.
Financial Assistance
The Oklahoma Arts Council strives to make Leadership Arts accessible to any individual interested in applying for the program. Opportunities to receive financial assistance for 2020 Leadership Arts may be available through the following:
Mid-America Arts Alliance Professional Development Support for Leadership Arts (Deadline: November 29)
Mid-America Arts Alliance (M-AAA) is offering up to $1,000 in financial support to individuals selected for the 2020 Leadership Arts program. M-AAA Professional Development Support for Leadership Arts will be provided to select applicants as reimbursement for eligible expenses. Availability of funding is limited. Deadline to apply is November 29. Learn more and apply at www.maaa.org.

Allied Arts Capacity Building Grant
501(c)(3) nonprofit arts organizations in Allied Arts' 10-county central Oklahoma service area may apply for the Allied Arts Capacity Building Grant program. The grant may help pay for expenses associated with employee participation in Leadership Arts. Deadline to apply for the grant is January 24, 2020. For more information, visit the Allied Arts website or contact Allied Arts Campaign and Grants Director Jennifer Bryan.

Oklahoma Visual Arts Coalition (OVAC) Education Grant
Oklahoma visual artists may be eligible to receive up to $500 in support for Leadership Arts through the OVAC Education Grant program. Proposals are accepted by OVAC on a quarterly cycle, with due dates of January 15, April 15, July 15, and October 15. Artists must have resided in Oklahoma for at least the past 12 months. For more information, visit the OVAC website or contact OVAC Membership and Outreach Coordinator Hayley Olson.
Download a Letter of Support
An optional letter of support from the Oklahoma Arts Council is available for applicants to download and provide to employers. The optional letter can be used by applicants to request support for their participation in Leadership Arts from their employers or others.
Download the Letter of Support
What You Will Learn
Leadership Arts curriculum is designed for adult learners across cultural and educational backgrounds. Participants will learn why and how the arts make a significant contribution to Oklahoma's economy, how communities have developed arts programs and vibrant arts spaces to enhance quality of life, how the arts improve the image of cities and neighborhoods while serving as a centerpiece for community engagement, and how the arts cultivate creativity, attracting and retaining a creative workforce.
Sessions are interactive and will expand participants' understanding of group dynamics and the value of group work. Leadership Arts will help you better articulate and advocate for the arts in Oklahoma, design strategies for employing local assets for cultural development, work towards creative partnerships and consensus building, and teach you to mobilize your leadership capacity and the capacity of others.
How Leadership Arts is Structured
Leadership Arts is offered every two years. Applications are available in the fall. Thirty participants are selected to attend four two-day sessions held in the spring. Participants from communities throughout the state are selected, with emphasis placed on geographic and cultural diversity. Participants are required to attend the Oklahoma Arts Conference in the fall to graduate from the program.
Class sessions are devoted to hands-on learning, group work, panel discussions, and tours of community art spaces. Reading assignments are sent to participants prior to each meeting.
Leadership Arts Graduates
Since Leadership Arts began in 2008, hundreds of Oklahomans from all parts of the state have graduated from the program and are now working to improve their communities through arts and culture.
View Leadership Arts graduates.
Questions?
For more information contact our Assistant Director.