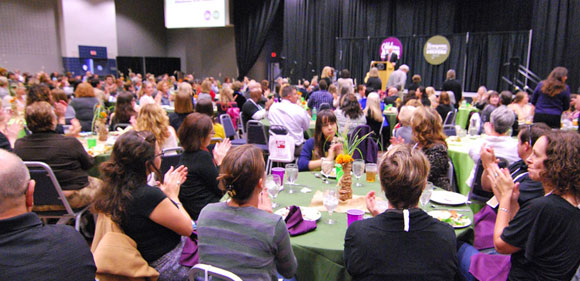 In order to lead, cultivate and support a thriving state arts industry, the Oklahoma Arts Council offers programs geared to build organizational capacity, foster and equip leadership and raise awareness for the impact of the arts in Oklahoma. Below are the programs through which we accomplish these goals.
Oklahoma Arts Conference
Programmed and sponsored by the Oklahoma Arts Council, the annual Oklahoma Arts Conference provides professional development and networking opportunities for those involved in or interested in the arts and cultural industry in Oklahoma. Workshops, sessions and panel discussions are generally offered for those involved in community development, artists and arts educators, arts managers and others.
Governor's Arts Awards
An annual event that recognizes individuals and organizations for their contributions to the arts. First awarded in 1975, the Governor presents the awards during a ceremony at the State Capitol.
Leadership Arts
A professional development program that equips participants to become leaders and advocates for the arts in their communities. During four two-day sessions, participants learn about the arts' role in community and economic development, education, and quality of life. Approximately 30 participants are selected each year from throughout the state to take part in the program.
Oklahoma's New and Emerging Arts Leaders (ONEAL)
A free statewide network for arts leaders age 35 and younger, or those with less than five years of experience in arts administration or the business of arts. The network provides peer support and resources for a growing group of individuals representing Oklahoma?s next generation of arts leaders.
Artist Rosters
The Oklahoma Arts Council maintains two rosters of artists available for arts programs in communities and schools statewide. Artists on the rosters have successfully demonstrated a high degree of professionalism, artistic ability, and/or instructional aptitude through an application, audition and/or interview process. Artists must meet certain requirements to remain listed on the rosters.
Learn about our Performing Artist Roster.
Learn about our Teaching Artist Roster.