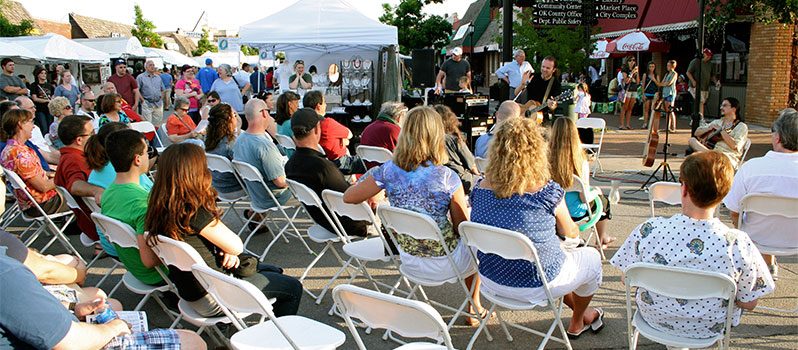 Arts in Communities
How We Can Help
The arts are an important development tool for Oklahoma communities. They impact our state and local economies, preserve our unique culture, enhance quality of life, and attract and retain a creative workforce.
The Oklahoma Arts Council serves communities by offering services, grants, and programs that cultivate and strengthen Oklahoma's arts and cultural industry. The industry has a $872.8 million economic impact on our state's economy. (Source: The Economic Impact of Nonprofit Arts and Culture Organizations & Their Audiences in the State of Oklahoma (2017).)

Services
We can help you with your grant application

We can help you develop your arts program
We can help you with board and organizational development

We can help you develop the arts in your community
For more information, please contact our Community Arts Director.
Grants
Grants from the Oklahoma Arts Council have a powerful multiplying effect for communities, generating $12 in private-sector contributions for every $1 granted. Without our funding many arts programs in the state would not be possible. Grants for arts programs in communities are listed below:
Community Arts Grant
Arts programs such as festivals, exhibits and performances are significant contributors to economic development, culture and quality of life in Oklahoma. Community Arts Grants from the Oklahoma Arts Council help eligible organizations and entities provide the *festivals, exhibits and performances that impact their communities. (*Festivals must feature the arts as a central component).

Arts Learning in Communities Grant
Arts Learning in Communities grants from the Oklahoma Arts Council allow people of all ages opportunities for hands-on learning in the arts. From children to older adults to individuals with disabilities, community-based arts learning programs benefit Oklahomans throughout the state.
Questions?
For more information about our grants, please contact our Grants Assistant.