Creek Council Oak Tree
by Mike Larsen
Oil
Commissioned by the Oklahoma State Senate Historical Preservation Fund, Inc.
Dimensions: 30 x 40
Dedicated March 6, 2002

The Artwork
The traditional "ceremonial ground" under this mature post oak tree was chosen by the Lochapoka clan of the Creek Indians as the place to begin a new life. The clan was forced to make a a slow and painful trek from Alabama by the U.S. Government. More than 160 people died enroute to Oklahoma Territory out of the original group of 630 who began the involuntary migration in 1834.

In 1836, at a point just before the Arkansas River made its great bend to the west, they stopped. Leading men of the group climbed a slight hill that rose from the river's sandy banks. At its crest, they gathered beneath a large oak tree that towered mightily above the other trees nearby. With the oak defining a southeastern corner, the people of Lochapoka proceeded to lay out a square for their new home. When it was complete, they marked their arrival with a solemn ceremony depositing ashes brought over the trail from their last fires in Alabama and established their first "town."

The oak that provided them their first council site would survive. Now much older and even more stately, it stands between Seventeenth and Eighteenth Streets and Cheyenne and Denver Avenues in Tulsa, Oklahoma.
The Artist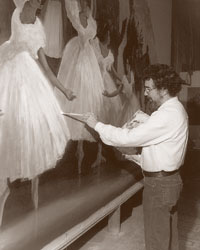 Mike Larsen, a student of history, immerses himself in the past events of the subjects he paints and sculpts. From an early age, Larsen knew what he wanted to do with his life. He has achieved his goal by being a professional fine artist for more than 40 years.

In his academic studies, Larsen focused on traditional art disciplines. He began his training at Amarillo Junior College, continued it at the University of Houston, and concluded his formal education at the prestigious Arts Student League in New York City.

Born in 1944 of Chickasaw heritage, Larsen grew up in farming communities in Oklahoma and Texas. He started his career doing street fairs, and rapidly progressed to nationally known festivals. Ending that particular phase of his career in the early 1990s, Larsen has since been represented by galleries throughout the United States for more than 20 years. He now spends most of his time creating paintings and sculpture commissioned by governments, corporations, and individuals.

Larsen's love for painting and sculpting dancing figures began when he was commissioned by the State of Oklahoma to paint "Flight of Spirit," a 26-foot-long mural for the State Capitol rotunda depicting Oklahoma's five internationally recognized American Indian ballerinas. He has painted several series of murals for institutions through out the state of Oklahoma, portraying the history of the state he calls home. Among his accomplishments, Larsen was chosen by the United States Post Office to create the Oklahoma Centennial Stamp.

Larsen's contributions to his Chickasaw heritage were honored by induction into the Chickasaw Nation Hall of Fame in 2000. His noted career as an Oklahoma artist earned him a Special Recognition Award during the 2012 Governor's Arts Awards. In 2015, he was inducted into the Oklahoma Hall of Fame.