President Teddy Roosevelt Signing Statehood Proclamation
by Mike Wimmer
Oil
Commissioned by the Oklahoma State Senate Historical Preservation Fund, Inc.
Dimensions: 56 x 86
Dedicated 2003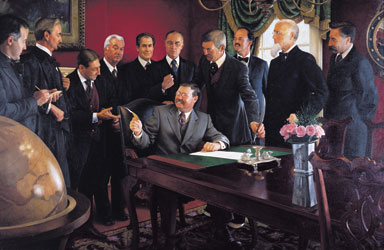 The Artwork
"Oklahoma is now a state," declared Theodore Roosevelt, President of the United States, as he signed the statehood proclamation at 10:16 o'clock on the morning of November 16, 1907. The birth of the new state of Oklahoma was attended with little ceremony. Only a delegation of government clerks from Oklahoma and newspaper men were in the cabinet room as witnesses.

The delegation formed around the cabinet table and fifteen minutes after 10 o'clock, the door leading to the executive private office was thrown open and the President entered, taking a seat at the head of the cabinet table. An eagle quill pen was arranged for the signature and became property of the Oklahoma Historical Society.

The President picked up one of the new blotters which lay on the cabinet table to dry his signature, but he had not completed the operation before an alert person with gray hair, white tie and nervous smile, cried out, "Mr. President, give me the blotter." The blotter was presented with a smile to Albert Hammer of Enid, Oklahoma, who had made the request, a clerk in the general land office.

The White House telegraph rooms were directly connected both with Guthrie and Oklahoma City and the second the President attached his signature to the proclamation, the information was flashed to the new state.
The Artist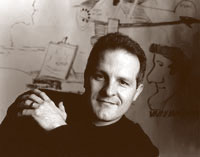 Born and raised in Muskogee, Oklahoma, Mike Wimmer began his career as an artist during the seventh grade. He earned his Bachelor of Fine Arts from the University of Oklahoma, where he met Don Ivan Punchatz. Wimmer later moved to Arlington, Texas, to be Punchatz's apprentice at the famous Sketch Pad Studio. Wimmer learned valuable knowledge regarding the business aspect of illustrating as well as various painting techniques and the working methods of the local Dallas illustrators. After his two and a half year apprenticeship, he moved back to Norman, Oklahoma, and set up his own studio using all that he had learned in Texas.

Since then, Wimmer has become very successful illustrating children's books such as Flight: The Journey of Charles Lindbergh by Robert Burliegh which was the winner of the Orbis Pictus Award for Outstanding Nonfiction for Children in 1990. He also illustrated All the Places to Love by Patricia MacLachlan which was published in 1994 and won the Oklahoma Book Award for Best Illustrated Children's Book 1995. Wimmer's book, Will Rogers by Former Governor Frank Keating, was published in 2002 and won the 2003 Spur Award from the Western Writers Association of America. Even though Wimmer has worked for some of the largest corporations in the world including Disney and Procter and Gamble, Wimmer finds the greatest artistic pleasure within his creation of fine art.