Jim Keffer
The Road Less Traveled: Slapout to Taos
East Gallery - February 2 ? April 5, 2009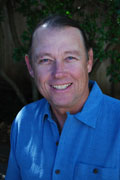 Self-taught artist Jim Keffer laughingly considers himself a late bloomer. Although he thought of himself as an artist from the age of 5, Keffer spent his first 46 years "gathering material" as he calls it. He began his career as an artist in 1996 creating handcrafted, carved and painted wooden furniture. From there, he began to actively pursue his creative instincts and in 1998 started to experiment with applying paint to canvas.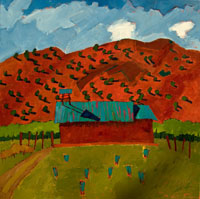 Now, Keffer's work is collected worldwide and has been enjoyed at gallery and juried art shows in Taos and Santa Fe, New Mexico; Bentonville, Arkansas; as well as Oklahoma City, Guthrie and Cushing.
"I look at all those years before as a time when I was absorbing material, thinking and reflecting. When the time was right, I became the artist I had always thought myself to be," Keffer explained.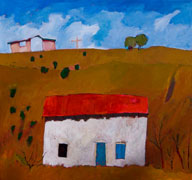 In his exhibit, The Road Less Traveled: Slapout to Taos, this Oklahoma City artist paints in a colorful style he describes as contemporary primitivism. Much of his inspiration comes from his love of painting small churches, old barns and abandoned buildings in rural Oklahoma and New Mexico.
Keffer said that each painting begins with a real place. "My paintings are like life where one starts with a blank canvas. I first add an overall coat of acrylic color, almost always red, creating a bright undercoat similar to the sun coming up chasing away the darkness." He then interprets the places he has seen creating shapes and places where paint is added layer upon layer, "just as one sets to work, fulfills the plan and adjusts to the new day's needs."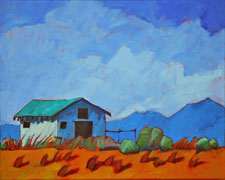 Keffer says he is not totally in charge of the outcome. "Paintings take on a life of their own. I add the final colors and the painting is finished. For better or for worse. One learns."
In his art, as in life, Keffer doesn't waste brush strokes or words.