Josephine Myers-Wapp
The Artistic Legacy of Josephine Myers-Wapp:
The Weaving of Stories and Tradition
East Gallery - June 22 ? August 23, 2009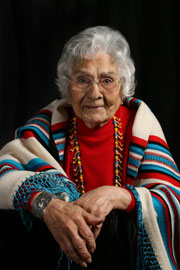 Josephine Myers-Wapp of the Comanche Nation was born in Apache, Oklahoma in 1912. She is an artist, educator, and specialist in Native American traditional art. At 97 years of age, Wapp is an Oklahoma legend.
As a child, Wapp learned the ways of the Comanche woman from her maternal grandmother, Tissy-chauer-ne. Her grandmother taught her to dig herbal medicines and gather clay from Cache Creek to use for cleaning buckskin. Wapp credits her grandmother as her artistic inspiration and the reason for her emotional connection to the arts.
In the early 1930s, Wapp went to Santa Fe, New Mexico to attend a two-year teacher training course in American Indian arts and crafts. There, she learned both traditional and contemporary weaving techniques, including finger-weaving, as well as how to weave on treadle-looms and hand-frame looms. She also studied pottery under the instruction of Maria Martinez, a renowned potter from San Ildefonso Pueblo, New Mexico.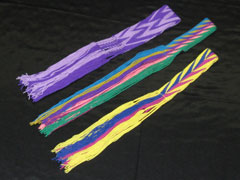 In 1934, Wapp returned to Oklahoma to teach at Chilocco Indian School in Newkirk. Chilocco taught American Indian children basic schooling with an emphasis on learning a trade. Wapp was the first teacher to introduce arts and crafts at the school. Her curriculum included five goals to teach American Indian children to: develop an appreciation of American Indian art; revive and preserve old American Indian handcrafts; develop interest, technique, skill, and a high standard of workmanship in making articles for the home or sale toward earning a living; utilize discarded clothing and natural resources, such as clay and native dyes; and, find a worthy use of "leisure time." It is easy to see the lessons learned from Wapp's grandmother reflected in her teaching. Prudent sensibilities paired with the gift of vision and talent have provided Wapp's students with the tools necessary to carry their culture with them while making their way in the world. Chilocco, open from 1884 until 1980, was named to the National Register of Historic Places in 2006.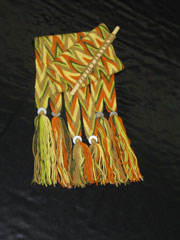 During her summer breaks from Chilocco, Wapp attended the University of Oklahoma and Oklahoma State University and earned her degree in Education. In 1962, she was invited to be one of the first faculty instructors at the newly-opened Institute of American Indian Arts (IAIA) in Santa Fe. IAIA offers post-secondary education in the creative arts to American Indians from across the country. At IAIA, Wapp taught traditional techniques of art, including textiles, all types of weaving, costume and fashion design, beadwork, and native dance.
In 1968, along with ceramic artist and IAIA colleague Otellie Loloma, Wapp coordinated a dance exhibition at the Summer Olympic Games in Mexico City featuring IAIA students. Wapp's creations have been exhibited at the Indian Arts and Crafts Exhibition in Gallup, NM; the Scottsdale National Indian Arts Exhibition in Scottsdale, AZ; and the Center for the Arts of Indian America in Washington, DC. In 1972, she exhibited her original clothing designs in the Auxiliary Fashion Show at the historic La Fonda Hotel in Santa Fe.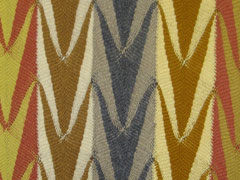 Since Wapp's retirement from teaching in 1973, she has continued finger-weaving at her leisure and constructed wall-hangings from naturally dyed wool. She remains active in the Native American community, serving as judge, consultant, and presenter at a variety of workshops. Wapp currently resides in Lawton, OK.
Sponsored by the Oklahoma Arts Council in collaboration with the Comanche National Museum and Cultural Center, Lawton.