Kristen Vails
Unscarred by Spur or Rod
East Gallery - June 22 ? August 23, 2009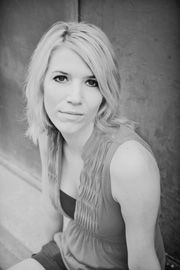 Oklahoma City artist Kristen Vails uses the horse as a vehicle for expression, and her work captures the spiritual aspects in nature that relate with the human condition. She describes herself as one of those horse crazy girls whose parents gave in and fulfilled her desire to roam the Oklahoma countryside on horseback.
Vails says she paints horses simply because she know the animal well. "I feel the horse can be an image to relate many feelings, struggles and passions we as humans experience. Horses can exude so many different emotions...fear, boldness, weariness, peace, obedience... in such a beautiful manner. I hope to capture the beauty of the horse's presence and the vast wonder of the human's soul."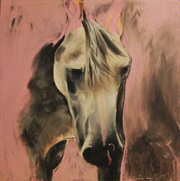 She finds it beautiful and ironic that complexities for both humans and horses are so similar. "Although my vehicle of expression duals with self-examination, I believe the viewer can relate the horse with their own conditions through my conception of beauty."
Through layers of latex, acrylic and charcoal, Vails hopes to capture the movements of the horses, letting them fade in and out to create an element of time and a sense of mystery.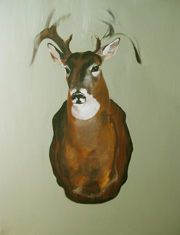 "Sketched lines remain in these layers, as in our lives the past remains important to our futures, while areas of the image disappear mysteriously into the background creating an urgent tension to grasp the image in its entirety. For the viewer, I strive to portray that these creatures are able to go beyond the sole purpose of their base need for survival and can begin to consider the intricacy of their place in this world."
Her work has been exhibited at the Firehouse Art Center Gallery and Mainsite Contemporary Art in Norman, Redlands Community College in El Reno, Tulsa Artists Coalition as well as an upcoming exhibition at the Leslie Powell Gallery in Lawton.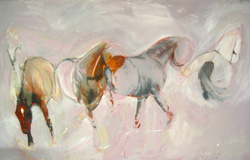 While creating art is her primary initiative, she also works towards promoting the visual arts in her community. She believes that sharing her creativity cannot be done through painting alone. Vails is currently the Executive Director of the Plaza Arts District in Oklahoma City and she previously served as the Gallery Coordinator for the Firehouse Art Center in Norman. Prior to that time, she taught art to inner city youth of all ages. Raised in Piedmont, Oklahoma, Kristen Vails attended the University of Oklahoma, where she earned a Bachelor of Fine Arts degree in Painting.
Oh, and before you ask, yes, she does have a horse.