Denise Duong
de-li'cious: highly pleasing, sweet, palatable
East Gallery - August 9 – October 10, 2010
Oklahoma City artist Denise Duong says, "Life is a wonderful narrative and is shaped by the lenses each viewer chooses to wear." The mixed-media works that make up this exhibit titled de-li'cious: highly pleasing, sweet, palatable, are a true testament to this philosophy. Her storybook images tell an endless story of love, life, and adventure through the use of collage and painting.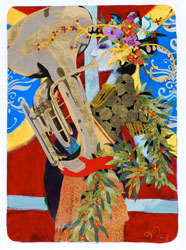 Duong says that within her artwork are "beautiful excursions that become unforgettable memories, tweaked by a little romanticized imagination." Her love for spontaneity and adventure are portrayed in her distinct whimsical style, which delightfully combines with her sentimental and nostalgic ideas. The delicately innocent backdrops of many of her images are meant to soften some of the harshness of life while savoring the greatness of those particularly memorable moments illustrated in the foreground. She says, "Learning and loving the past, feeling the excitement for tomorrow, but living for today are all comprised in the layers of each painting."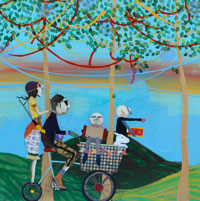 Duong is often attracted to patterns, textures, and colors found in decorative paper. She says, "I shop for paper like most people shop for fabric." When she sees a new pattern on decorative paper she immediately thinks about how to incorporate the paper into a dress, jacket, or object in her art. Her process begins with sketching directly on the canvas. Her pencil marks are often visible in the final product which gives the art a delicate rawness. Her paint colors are bright and clean, which complement the paper collage she layers over the paint.
To Duong, art goes hand-in-hand with community because to her, the purpose of art should be to contribute to the lives of others through emotion or philanthropy.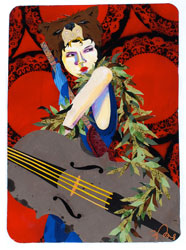 She says, "Creating inspires me to give back and I annually contribute my time and art to organizations such as Planned Parenthood, Candlelighters Childhood Cancer Foundation, and Naomi's Hope for a Cure for Pediatric Cancer Research." She also contributes to Oklahoma City fundraisers for local arts organizations as well as public school programs. "Working with youth has been truly inspiring; their energy and creativity is contagious and invigorates me."
Duong attended School of the Arts Institute of Chicago before pursuing her fulltime art career. Her artwork has recently been exhibited at the Phoenix Gallery, Park City, Utah; The Art Registry, Washington, DC; and Portsmouth Museum of Art, Portsmouth, NH. In Oklahoma City, Duong is represented by JRB Art at the Elms in the historic Paseo Arts District. When not making art, Duong can be found traveling and spending time with her husband and dog, Debo.