Nick Hermes
Realistic Cartooning and the Imagination of Memory
East Gallery - October 18 – December 19, 2010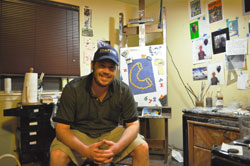 The art movement known as Pop Surrealism arose out of Los Angeles in the late 1970s and further developed into the 1990s as freelance illustrators and designers searched for a new market after the arrival of the computer. Often influenced by popular culture, the genre is marked by a refined technique in illustration combined with a witty sense of humor or sarcasm.
Realistic Cartooning and the Imagination of Memory is a collection of pop surrealist paintings by Oklahoma artist Nick Hermes. Of Pop Surrealism Hermes states, "The style is usually figurative painting, not abstract. It's sometimes cartoony, sometimes highly technical, and the subject matter ranges from cerebral to humorous to terrifying."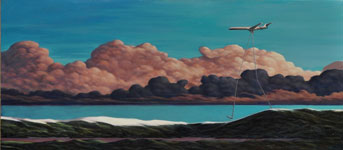 From a young age, Hermes admired the narrative illustrations of Norman Rockwell and Charles Schultz's Peanuts. As a student, he studied under Georganne Deen, who studied under native Oklahoman Gary Panter. His style is influenced by realistic artists such as John Singer Sargent, Jan Vermeer, and Edward Hopper among others. He takes cues on color theory from works by Vincent Van Gogh, Claude Monet, and Wilson Hurley, another Oklahoman. The results of Hermes' thorough education and meticulous observation of the world around him are nostalgic illustrations of a different world, like windows through which to look into dreams.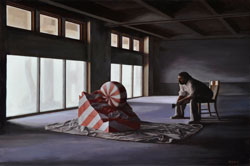 "I had more fun as a naïve kid than I do as a curmudgeonly adult," says Hermes. "As a kid, I was less encumbered by external judgment on my creativity."
He says that illustrating these odd situations or dream-like subjects allows him to experience that fun, child-like way of thinking again. He paraphrases Ben Franklin as he says "the golden years are only golden in our memories," which explains why many of his images look like snapshots of the way his mind worked as a child. In Dreams I Walk with You, for instance, illustrates the often incomplete understanding of science in a child's mind.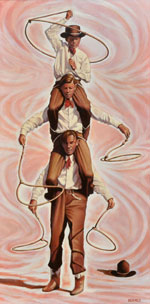 Hermes graduated from Otis College of Art and Design and Whittier College in Los Angeles and now resides in Oklahoma City. He has worked as a freelance illustrator, graphic designer, muralist, cartoonist, and portrait artist over the years. In 2007, he made the decision to devote his time fully to the production of fine art. Hermes is a member of the Individual Arts of Oklahoma and has participated in exhibits at the Invited Artist Gallery in downtown Oklahoma City as well as the Fred Jones Jr. Museum in Norman.