Ryan Cunningham
Transcending History: A Vision of Oklahoma
East Gallery - January 11 ? March 14, 2010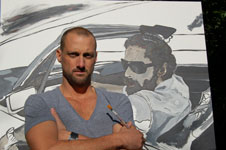 In the exhibit Transcending History: A Vision of Oklahoma, artist Ryan Cunningham uses his expressionist style of painting to depict two distinctly different lifestyles found in present-day Oklahoma: Modern Life and the Modern West. While Cunningham's recognizable style of bold lines and vivid colors unite the two themes to make the whole a cohesive body of work, the artist makes subtle technical choices to set them apart and express their variations.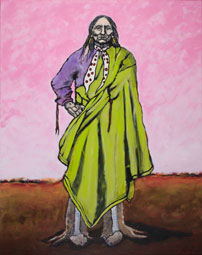 Cunningham says the Modern Life series is based on his perception of the ever-increasing speed of today's contemporary world. "Mobile phones, email, internet, and satellite television combine to constantly bombard us with an ocean of information. The frequency of intrusion into our lives continues to increase." To convey the "speed" of contemporary life, many of the subjects in the Modern Life series are depicted in motion. Cunningham emphasizes the movement by using vigorous brushstrokes which are left visible to the viewer. He illustrates modern life with people on the go, out on the town, or shopping for the latest fashion trends. Images of busyness and energetic colors convey a lifestyle of constant stimulus.
The paintings in the Modern West series include depictions of cowboys, American Indians, horses, and other images, which are recognizable in the American West. Cunningham says the traditions of the American West are alive in present-day Oklahoma and have been an important influence in shaping who he is and his art. Cunningham breaks away from the traditional style often seen in western art and uses a contemporary style of his own with color, line, and interesting compositions. He says using his contemporary style to paint traditional western subjects conveys the idea that the American West is still alive and evolving in today's society.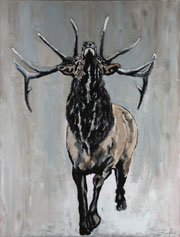 Cunningham says his paintings are a tool for communication. "Whether the art be music, literature, dance, or sculpture, I believe the purpose of art is communication," says Cunningham. The paintings included in this exhibit are Cunningham's way of commenting on two worlds co-existing in Oklahoma.
With his subtle commentary, Cunningham also believes his art is open to the viewer's own interpretation. "Each viewer brings his or her own experiences to the work and may pick up on some, all, or none of what I am communicating. I believe that each viewer's interpretation of the communication is as valid as the next and even as valid as the artist's own," says the artist.
Cunningham was born, raised, and educated through high school in Oklahoma. While in high school, Ryan realized that his love for creating art was transforming into a serious passion. During his school years he achieved numerous awards for his artwork and was chosen for the prestigious Young Talent in Oklahoma award.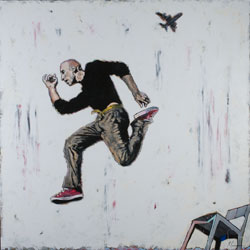 After high school, Cunningham took a different route and studied Law at the University of Texas at Austin and the University of Oklahoma. Once he established a successful law firm in downtown Oklahoma City, Cunningham returned to his artistic passion and began studying painting under local artist Bert Seabourn.
Cunningham has since built a successful artistic resume and has participated in several group and solo exhibitions, including A Study of the American Horse at Caf? Nova, Dog Days of Summer at the Mears Gallery, and Our Town at City Arts Center, all in Oklahoma City. His artwork has been acquired by collectors for both corporate and private collections stretching across the country and internationally.
Click here to veiw an Oklavision.tv interveiw with artist Ryan Cunningham.