Tony Tiger
Full Consciousness
East Gallery - March 22 ? May 23, 2010
Muskogee artist Tony Tiger reveals the process of self-discovery and cultural awareness through his mixed media works of art. Historical family photographs, tribal designs, and symbolic colors create visual timelines of where he came from and where that heritage has brought him. "We as humans are more than just reflections in a mirror," says the artist. "We are body, mind, and spirit." Tiger's art in this exhibit, titled Full Consciousness, expresses this belief by exploring those components which make up his identity as a member of the Sac and Fox Tribe.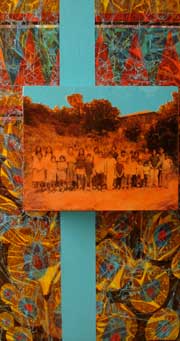 The central focus in much of Tiger's art is photographs of the artist growing up with immediate family as well as historical documentation of his ancestors. Research has allowed the artist to identify even the kind of dress his American Indian ancestors wore upon their passage to Oklahoma. These photographs create familiarity for the artist with his heritage and begin the journey of self-discovery.
Another significant component of Tiger's art is his use of vibrant colors such as deep crimson, yellow ochre, and turquoise blue. Many patterns in his art echo those found on the clothing of the Sac and Fox Tribe. Tiger has also established an element of artistic identity by creating a signature symbol, resembling the patterns of a peacock feather, which the artist uses to express the body, mind, and spirit of life.
The photos, colors, and patterns are dominant in Tiger's art, but upon closer inspection the viewer will likely be drawn to the subtle texture created on the painted surface by use of palette knives and masking tape. Added interest is developed by the multi-level canvases hand-built by the artist which allow part of the composition to recede and others to protrude from the surface. The multi-dimensional surfaces perhaps suggest the idea of digging deep into the past and advancing into the future to live life with awareness of one's surroundings. "Being an artist has allowed me the opportunity to observe humanity in a new light," says Tiger. "My artwork reflects the concept of viewing humanity with full consciousness."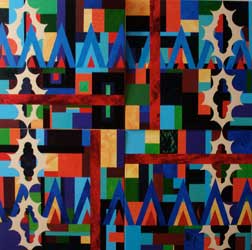 Tiger has been producing art in Oklahoma for more than 20 years. He earned an Associate of Art degree from Seminole College, a Bachelor of Art from Oklahoma State University, and a Master of Art from the University of Oklahoma. Tiger is currently the Director of Art at Bacone College in Muskogee. His art has recently been exhibited at John Brown University in Siloam Springs, AR and the Heard Museum Indian Art Market in Phoenix, AZ. He is currently preparing for an exhibit at the Southern Plains Indian Museum in Anadarko.