Bobby C. Martin Back in the Day
East Gallery - December 27 – February 27, 2011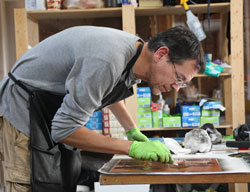 Old family photographs have long been a deep inspiration and nearly endless resource for the artwork of Tahlequah artist Bobby C. Martin. Images of close kinfolk and distant relatives from his Muscogee (Creek) heritage are icons to him, symbols of Native American identity that are not seen as "traditional," but are just as valid and vital to him.
I base many of my works on photographs that belonged to my full-blood Indian grandmother, my aunts, and my mother," says Martin. He uses pictures found in shoeboxes, forgotten in the bottoms of drawers, or found among the tattered black pages of old leather-bound photo albums. "The photographs have very personal meanings for me as the artist," he says. And he has also found that there is almost universal recognition among viewers of a sense of history and identity, evoking memories of their own family's past.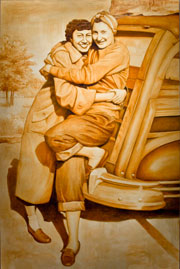 Martin explains, "My art aims to return the viewer to a specific moment in time—not a monumental or historic moment, just a simple, personal moment in one man's family history. While it may be possible to peel back or peer around the layers in these works to reveal deeper intent, it may be just as possible to look at these works and think about a favorite aunt or Granny's old Ford truck. My hope is for my art to become like an old family photograph—perhaps cherished, perhaps stuffed in a box in the attic—but always able to evoke memories every time it is viewed."
Martin works in oil painting, printmaking, and sometimes digital image making. He transfers the images from the photograph to larger surfaces such as canvas or etching plates. Over the images he then adds text from Dawes census rolls, scripture, words from Muskoke hymnbooks, or English.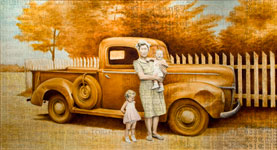 For the words, Martin says, "My goal is to have the textual material become not words to read, but just another layer, a historical identity layer that functions as much as a texture as it does as a carrier for messages of faith, politics, and identity," says Martin.
Martin holds a Bachelor of Arts from Northeastern State University in Tahlequah and a Master of Fine Arts in printmaking from the University of Arkansas. He is currently an Associate Professor of Visual Arts at John Brown University in Siloam Springs, Arkansas while still residing in Tahlequah.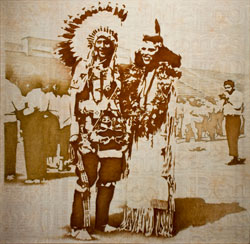 Martin's artwork has been featured in several solo exhibits and is collected internationally. His art has been featured in exhibitions ranging from Who Stole the Teepee, a traveling exhibition organized by the Smithsonian Museum of the American Indian, to Something More Than 'Art': Handworks by American Indians held at the Utsunomiya Museum of Art in Japan. Martin's artwork is included in the permanent collections of the Hood Museum of Art at Dartmouth College, the Southern Plains Indian Museum, Philbrook Museum, Gilcrease Museum, and the Dr. J.W. Wiggins Collection of Native American Art.