Jean Ann Fausser
Roots and Connections
East Gallery through November 15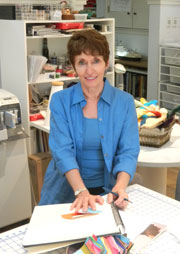 Mixed media fiber artist Jean Ann Fausser is inspired by connections in both nature and mankind. From oceans, continents, the solar system and forces of nature to roots and even DNA, these various forms of connection comprise a theme that is constant in her art. Fausser says she finds hope and optimism in focusing on connections and the fact that all of mankind is connected in the most basic way as opposed to focusing on the ways we are disconnected.
Fausser's images echo the natural beauty found in the work of artists like painter Georgia O'Keefe and photographer Ansel Adams. But one must see Fausser's artwork up close and in person to appreciate the layering of textiles, embroidery, and hand-painted embellishments that make her works so unique.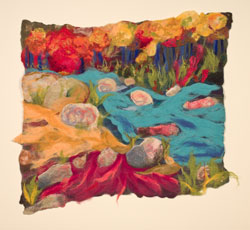 For centuries, fiber has been used in art to create clothing, bedding, and jewelry. Sewing circles and quilting clubs have steeped the art form in tradition and in some ways contributed to fiber art often being considered "women's work" or "craft." Fausser's artwork challenges the viewer to rethink this notion by taking a postmodern approach to her creations as she fuses traditional techniques with modernist materials. Fausser uses familiar techniques like weaving, needlework, and felting along with contemporary materials such as inkjet printers, collage, and theater gels to create her intricate designs. The results are bold, textural images that sing praise to the beauty found in nature.
Fausser began her career in the arts as a watercolor painter. She took a detour from the arts and earned a B.A. in English and continued with graduate study in English as well. While raising three children, she became the proprietor of a children's bookstore in Tulsa. In the 10 years she owned the bookstore, she found herself spending less time creating art and more time running a business. However, all the while, she says she observed and thought about art even though she wasn't creating it. When the bookstore closed in 1996, Fausser reconnected with her passion for the arts and enrolled in classes and workshops offered by The Handweavers League (now called Fiber Artists of Oklahoma). Fausser's talent as a painter has flourished in the fiber media as it seems she virtually 'paints' with fiber. She also enhances her skills with new techniques like fabric collages made with hand-dyed fabrics and embellished with oil pastels and watercolors.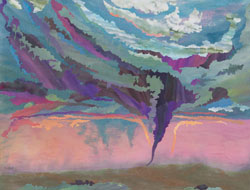 Fausser continues to explore additional materials and skills involved in creating these works. She says, "The exploration of new materials and ideas is what keeps a freshness and excitement in the act of creating the art for me."
Fausser has exhibited her work in various juried exhibits around the United States and Korea including Vision Makers, Edge Art Now, FiberWorks (Oklahoma), Fiber Focus (St. Louis, MO), Art Quilts at the Sedgwick (Philadelphia, PA), 5th Teapots Invitational Exhibition at the Morgan Contemporary Glass Gallery (Pittsburgh, PA), and Pojagi from American Friends in Korea as well as an exhibition at the Cheongju Craft Center in Korea. She has participated in a variety of group exhibits as well as solo exhibitions in Kansas, Arkansas, and Oklahoma. Her work is in the collection of the Boy Scouts of America in the Tulsa, OK headquarters and the Kamm Teapot Collection as well as in various private collections in Texas, Ohio, Pennsylvania and Oklahoma. Fausser has received several awards for her art including Juror's Choice Award for FiberWorks (2010) and Best Felted Work for FiberWorks (2011).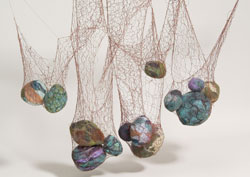 Fausser currently divides her time between working in her studio and serving as Board President of the Arts and Humanities Council of Tulsa, Co-chair of the Board of the Brady Craft Alliance as well as serving on the boards for the Oklahoma Visual Arts Coalition, Fiber Artists of Oklahoma, and Living Arts of Tulsa.