Roger Disney Cityscapes
East Gallery - May 16 - July 17, 2011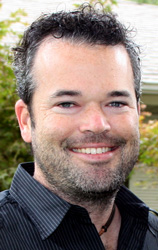 Tulsa artist Roger Disney's love of travel is showcased in the cityscapes which make up this exhibit, titled Cityscapes. His loose and expressive style of painting, achieved by the use of palette knives rather than brushes, gives life to the energy often found in downtown city areas.
Disney works exclusively from his own photographs. Being an artist who travels the national festival circuit allows him the opportunity to travel and capture photographs for reference in his paintings. "It's sometimes a challenge to find that great angle at the perfect time of day to display a city in a more aesthetically pleasing light," says Disney, "but I've always just loved the energy and vibrance of cities." He also states that using his own photographs for reference always "gives me an excuse to travel more for research."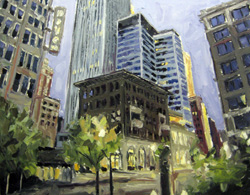 Influenced by the art movements of Impressionism and Expressionism, Disney's work reflects many of the traits for which those styles are known. Artwork produced during the Expressionism movement presented the world solely from a subjective perspective, distorting it for emotional effect in order to evoke moods or ideas.The Expressionists' influence in Disney's art is noted by the sense of movement and energy expressed through his compositions.
Characteristics of Impressionism include visible brush strokes, open compositions, and an emphasis on the reflection of light and its changing qualities on objects at various times of sunlight. Unusual angles and illustration of movement are also among the traits of Impressionism found in Disney's work.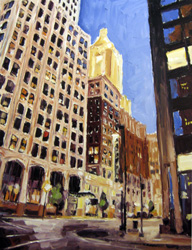 Originally from central Oklahoma, Disney has traveled extensively throughout the country and abroad to places such as England, Australia, and the Czech Republic. After completing his Bachelor of Fine Arts at Oklahoma State University, he began graduate work at Queensland University in Brisbane, Australia. He plans to complete his Master of Fine Arts locally. His diverse work experience includes web design, illustration, custom furniture, software design, photography, arts instruction, as well as publishing his comic "Pulp." Disney currently resides in Tulsa and continues to travel as part of the national festival circuit.