Micheal Jones
Oklahoma Gold
East Gallery - September 24 - December 2, 2012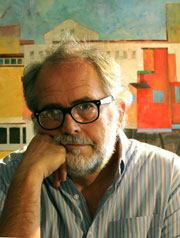 Creating art has been the focus for Broken Arrow artist Micheal Jones since he was 12 years old. Since the moment he decided to pursue a professional art career, he has studied, practiced, painted, and created relentlessly. He earned his master's degree in painting from Southwestern Oklahoma State University in Weatherford. From there, he went on to study with notable figures of contemporary watercolor including Robert E. Wood in Los Angeles before returning to Oklahoma to teach.
The collection of paintings in this exhibit, titled Oklahoma Gold, showcase much of Jones' work over the past three years. He describes these works as a labor of love. "I have carefully distilled the sketches that I have created over many years," says the artist. "Using those designs, I have re-imagined the works with emphasis on composition, texture and design, while still savoring the ambience of the subjects as I remember them."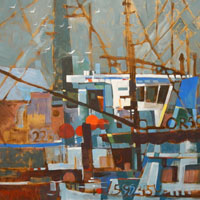 "Keeping in mind that the 'feeling' generated by the painting is more important to me than the realism of the painting, I will try to seduce your eye into the canvas," says Jones. "I will use lines to move you. I will place colors to guide you, and dangle textures and unexpected surprises to gratify you as you stand before my work. If I can hold your attention and show you just a bit of what I felt when I fell in love with this subject, then I have done what I set out to do."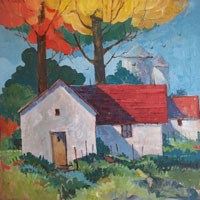 Generally, Jones begins every canvas by toning it with a wash of burnt umber. Then he draws his general idea onto the dark canvas with white chalk. He then establishes the drawing with dark acrylic paint and follows by cutting in darks and shadow patterns with umber washes. Moving from dark to light, Jones aims to use the fewest colors possible, usually only the primaries, white, and the original burnt umber. He rarely works on one spot at a time, instead moving over the canvas distributing light and color as he sees the need. Jones believes the umber under-painting creates unity within all of his works. He chooses not to varnish the completed product as he prefers the matte finish of the acrylic paint.
Jones currently serves as a professor of studio art at Rogers State University in Claremore and professor of art for educators at Northeastern State University in Tahlequah. He has exhibited in many well-known juried national shows from Los Angeles to New York, including Adirondacks National Watermedia Exhibition in New York; Rocky Mountain National Watermedia Exhibition in Colorado; and, Watercolor West in Los Angeles. He also has a set of mezzotints in the State Museum of Yekaterinberg, Russia.