Ted Conley Untitled
East Gallery - July 9 ? September 9, 2012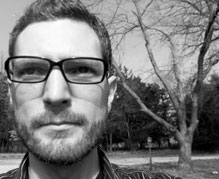 Chickasha artist Ted Conley uses the genre of modern realism to highlight the beauty in the existence of ordinary, everyday situations and inanimate objects. Through his artwork, he exposes commonly overlooked details by focusing on reflection, highlights, and shadows in a way that brings a sensation of life to commonplace objects and situations. Conley's painting employs the use of strong complementary or contrasting colors and a blend of hard and soft lines to create visual conversations and movement between the elements of each piece. His use of unorthodox vantage points and subject matter in his paintings evoke a sense of intrigue and emotion.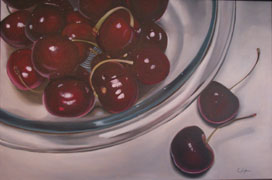 "To me, there has always been a thin line between art and life," says Conley. "Living is a form of art. We are performers in social situations, writers at work, and culinary artists in the kitchen. I strive to pinpoint and emphasize areas of life that emanate intrinsic beauty, a beauty that might otherwise go unseen."
Conley says a new piece of his art usually begins with an object or situation that catches his attention. He prefers painting from life whenever possible, but the nature of his work, with highly detailed imagery, also lends itself to using reference photographs, sketches, and drawings done from life. After establishing the composition on the canvas with a drawing, Conley creates an under-painting of either black and white, or earth tones to lay the foundation for depth and volume for the painting. Using oil paint, he then paints over the under-painting with thin glazes of color, mixing and blending to create life-like paintings full of life and detail. Of his pace of work, Conley says, "Given the intrinsic qualities of oil paint and lengthy drying times, it's not unheard of for one of my paintings to take over a year to complete. So, I like to keep multiple projects and paintings moving at once."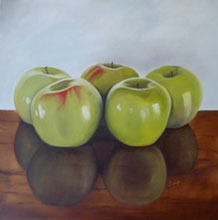 Conley was born in Altus, but has lived in many towns in Oklahoma and California. He has studied art and design at the University of Oklahoma in Norman as well as at the University of Science and Arts (USAO) in Chickasha where he currently resides. He also credits a majority of his educational experience to studying classical masters such as Ingres and Caravaggio and spending countless hours in his studio honing his craft. While living in Ardmore, Conley shared his skills as an instructor of beginning and intermediate oil painting at the Goddard Center Art Studios.
Conley's art has been featured in several galleries and alternative art spaces including the Goddard Center Art Gallery and Studio 107, both in Ardmore; the USAO Gallery in Chickasha; and, Artplace Gallery in Dennison, Texas. His work is also collected in many private collections across the United States.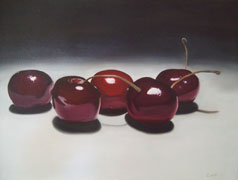 Conley is currently focused on furthering his art education at USAO. He also works as a freelance web and graphic designer and continues to produce work for fine art commissions.