Anne Spoon
Portrait of Okmulgee:
One Year - One Hundred Portraits
East Gallery - September 9 - November 10, 2013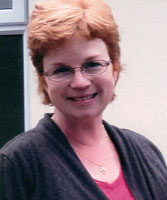 A portrait can evoke emotion, a memory of a loved one, our children's smile, freezing forever a moment in time.
In 2011, oil painter Anne Spoon set out on a community art project that focused on the residents of her community. Over the course of one year, she painted 100 portraits in a studio space in the historic downtown district of Okmulgee. Open to the public, volunteers signed up to sit for four hours while Spoon painted their portrait. She kept the door open and encouraged those passing by to come in and watch the sessions. And, while the neighbors sat for their portraits, Spoon listened to their stories.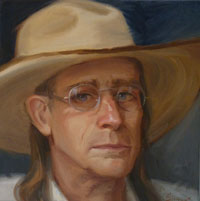 "I wanted the project to feature a cross section of the community, all walks of life, income, and heritage," says the artist. "My hope was that viewers would find a common thread among all people - joy, hope, sorrow, despair, and pride, it all shows in a face no matter where you are from or your station in life."
Spoon says that through the project, she wanted to bring art to her community. "And I did," she says, "but what my community brought to me as I visited with each person I painted was even greater - a sense of pride in the place I call home and the understanding of the courage and faith it takes each and every day to be human. I thank them for this."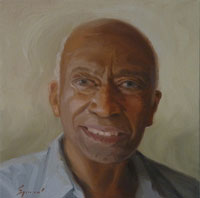 "I prefer to paint directly from life," Spoon says of her process. "I believe the interaction between the sitter and the artist is essential in the outcome of the portrait. Even with small children who can't sit for extended amounts of time, I will do color studies of their skin color and hair color while they are free to move around. If I am unable to finish a portrait in the allotted sitting time, I will then use photographs to complete the portrait."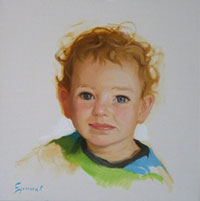 Spoon was born in the Bronx, New York, and grew up in upstate New York. She is a first-generation American as her parents immigrated to the United States from Ireland in the early 1960s. She attended the School of Visual Arts in Manhattan where she earned a bachelor's degree in fine arts.
After college, Spoon took a position with Tallix Sculpture Foundry in upstate New York where she worked as a patinist, applying patinas to cast bronze sculpture. This, she says, was one of the most influential work experiences of her career as she had the opportunity to work alongside with world-renowned artists such as Frank Stella, Roy Lichtenstein, Willem DeKooning, Jeff Koons, and Julian Schnabel.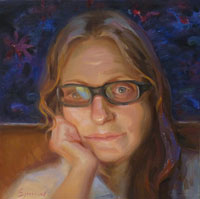 In 1991, Spoon moved to Oklahoma to pursue a career as a full-time artist. She prefers to paint in oil and maintains focus on still life and portraits. Spoon's artwork has been featured in Southwest Art Magazine, American Art Collector, and Art Focus. In addition, her artwork has been included in regional and national exhibits, including The Oil Painters of America, Salon International, and The American Women Artists. In the spring of 2009, Spoon's artwork was featured in a solo exhibit at the Creek Council House Museum in Oklahoma.
Spoon currently resides in Okmulgee. She teaches workshops in Sapulpa and Bartlesville. She is represented by the Dodson Galleries in Oklahoma City.