Bert Seabourn
The Expressionist Paintings of Bert Seabourn
East Gallery - July 1 - September 1, 2013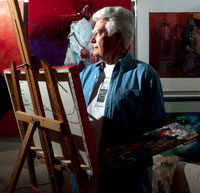 Internationally acclaimed artist Bert Seabourn is a painter, printmaker, sculptor, and teacher who experiments intensively with creative vitality. He identifies most as a painter and has said, "I'll die with a brush in my hand." To Seabourn, painting is as natural as eating or breathing. Included in this exhibit are some of Seabourn's most recent paintings, all in his signature style of what he calls American Expressionism.
"My art is like the Oklahoma wind?ever changing," says the artist. "Some days I want my paintings to be more abstract and other days more realistic. I find myself constantly changing, growing, and finding new directions. This stylistic diversity is what keeps my life, and hopefully my art, interesting. I love to paint, and I hope it shows."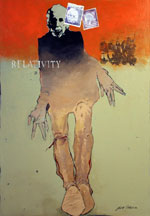 Seabourn sold his first artwork to King Features Syndicate in 1946 as an eighth grader in Purcell, Oklahoma. After graduating from high school, he joined the Navy where he spent several years as an artist and journalist. After being discharged in 1955, Seabourn and his family moved to Oklahoma City where he worked for 23 years as an artist and art director for Oklahoma Gas and Electric Company. In 1978, he resigned to pursue a full-time career as a studio artist. Since then, Seabourn has remained dedicated to creating and exhibiting his artwork prolifically.
Seabourn is the recipient of several notable honors. In 1976, he was designated a Master Artist by the Five Civilized Tribes Museum, and in 1981, Oklahoma Governor George Nigh awarded him a Governor's Arts Award. In 1988, his sculpture, Wind Walker, a 23-foot tall bronze, was unveiled in Oklahoma City and now stands in front of the Oklahoma Attorney General's Office. In 1997, Oklahoma City University honored Seabourn with the honorary degree of Doctor of Humane Letters. In 2004, he received Oklahoma's Living Treasure Award, and in 2009 he received both the Lifetime Achievement Award and Artist of the Year title by the Paseo Arts Association.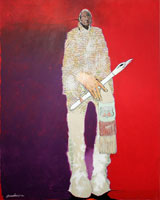 A selected listing of locations where Seabourn's paintings are held in permanent collections include the Vatican, Rome, Italy; China's National Palace Museum, Taipei, Taiwan; Moscow State University, Ulyanovsk, Russia; American Embassy in London, England; Smithsonian Museum of Natural History, Washington, D.C.; President Gerald R. Ford Library Collection, Ann Arbor, Michigan; and President George and Barbara Bush Collection, Houston, Texas. Collections in Oklahoma City include: the Oklahoma State Art Collection; National Cowboy and Western Heritage Museum; Oklahoma City Museum of Art; and the Oklahoma Supreme Court Judicial Center as well as the Fred Jones Jr. Museum of Art at the University of Oklahoma in Norman.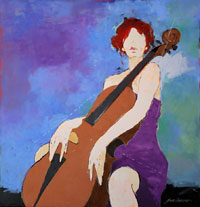 For over 50 years, Seabourn exhibited his art throughout the United States, Europe, Asia, and South America. He currently teaches painting at Oklahoma Contemporary Arts Center in Oklahoma City and the Institute of Fine Arts in Edmond.
Married to Bonnie Jo Tompkins for 63 years, the couple has three daughters, four grandchildren, and seven great-grandchildren. Seabourn and his wife reside in Oklahoma City.