Andre Tutak
City of Lights
East Gallery - December 15, 2014 - February 8, 2015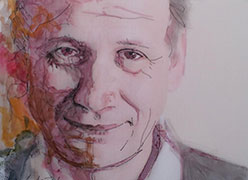 The streets of France are featured in the paintings by Oklahoma artist Andre Tutak for this exhibition, titled City of Lights. Like windows into a world of nostalgia, Tutak includes the cityscapes, nighttime streetlights, and vintage cars of 1920s France in his compositions.
The artwork was created to invoke a feeling of recollection for the viewer and make it possible for even those who have never been to France to feel as though they were there, walking along the streets.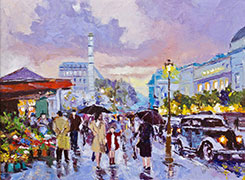 Tutak?s style of painting is often described as Impressionism, in which light plays a prominent role in the artwork. Through the application of color, Tutak captures the vibrancy and warmth of light throughout the composition. Shadows and highlights on the figures and architecture subtly suggest the fine details of realism. Shape and line work together to create bustling street scenes, full of life and fluid movement.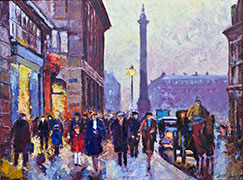 ?There are a spectacular number of emotions that I am going through while creating paintings or drawings,? Tutak says of his process. ?The colors, shades, marks of a palette knife, and brush strokes I use represent movement of my thoughts in the moment of creation of the paintings. I paint mainly with a palette knife because it gives me the opportunity to interact with the paint in an expressive way. Very often, I use soft pastels to capture the light, texture, and geometry that occur in nature.?
Tutak was born in Wroclaw, Poland, and received his Associate of Science in Architecture from Wroclaw Architectural College in addition to completing his studies at the Academy of Fine Arts in Wroclaw. After college, Tutak lived in Berlin, Germany, for several years before finally moving with his family to the United States in 1986. He received his Bachelor of Arts in Graphic Art and Design from the University of Central Oklahoma and currently resides in Yukon, Oklahoma.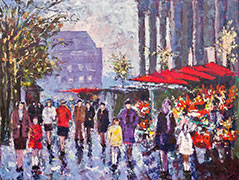 Tutak?s artwork is sold in galleries in Berlin, Morocco, Chicago, Houston, Dallas, and at the Howell Gallery in Oklahoma City. His artwork has been featured in exhibitions in Poland, China, and San Francisco, as well as across Oklahoma. He dedicates himself full-time to his painting from his studio in Oklahoma City. When not working with acrylic paint, as in this exhibition, Tutak works in oil and egg tempera. He is an Associate Member of Oil Painters of America.