Dana Tiger
Portraits of Courage and Culture
(And a little frybread on the side)
East Gallery - October 6 - December 7, 2014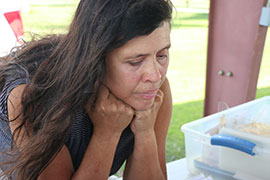 Oklahoma artist Dana Tiger is a member of the Muscogee (Creek) Nation and of Creek, Seminole, and Cherokee descent. Tiger was just five years old when her father, legendary Oklahoma artist Jerome Tiger, passed away. While growing up, she turned to his art as a way of knowing the father she lost. That engagement, coupled with the tutelage of her uncle, renowned painter Johnny Tiger, Jr., exposed the younger Tiger both to the richness of her Native American culture and to the bounty of her family's artistic tradition. Today, she is an award-winning, nationally-acclaimed artist living in Muskogee, Oklahoma.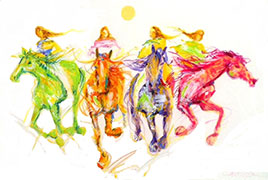 Best known for her watercolors and acrylic paintings depicting the strength and determination of Native American women, Tiger's art is often described in terms of how it helps viewers see the past and contemporary roles of the Native woman in communities. Her artwork hangs in galleries, universities, and Native American institutions and state buildings nationwide. In addition, she has won numerous awards and art competitions, including the Five Civilized Tribes Museum's Masters Art Show, the Cherokee National Holiday Art Competition, and the Creek Nation Artist of the Year Award. In recognition of her accomplishments as an artist, as well as an activist and community leader, Tiger was inducted into the Oklahoma Women's Hall of Fame in 2001.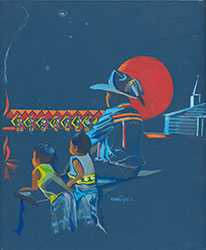 In 2002, Tiger founded the non-profit Legacy Cultural Learning Community with the mission to build on cultural teaching by bringing the joy of art expression to the young people in American Indian communities. Through this community-based organization, she is dedicated to nurturing Native youth via the celebration and sharing of tribal languages and culture through the arts. Her artwork, featured on a poster to combat HIV and AIDS in Indian Country, received recognition at the United Nations in New York in 2005, and her painting, Again We Ride, was chosen as the cover art for the 2006 Oklahoma Women's Almanac. Tiger also extends her reach beyond the arts and focuses on promoting the use of traditional tribal food to combat diseases afflicting Native people in the Muscogee (Creek) and Cherokee communities.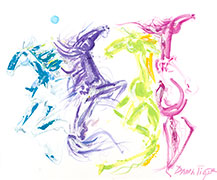 Tiger currently resides in Muskogee where she owns the Tiger Art Gallery. Together with her husband, she is raising two children who are also gifted, emerging artists.