James Gaar
A Fifty Year Journey in Art
East Gallery - June 2 - July 27, 2014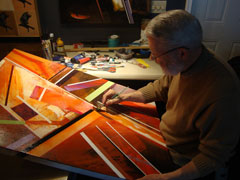 In this exhibit titled A Fifty Year Journey in Art, selected paintings by Tulsa artist James Gaar highlight the artist's diverse talent in both photorealism and abstract expressionism. With over fifty years of experience in painting, Gaar has perfected the technical skills required for two widely varied styles. While formally trained in photorealism, Gaar also has a deep appreciation for abstract expressionism, which allows him to work with the basics of composition, line, color, and texture. "Abstract art is pure recreation for my spirit after the discipline of photorealism," says the artist.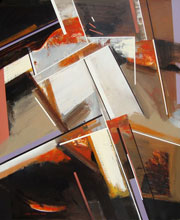 Gaar never gave a second thought to any career outside of art. Originally from Ada, he began his college studies at East Central University (ECU) and earned a Bachelor of Arts. While at ECU, Gaar developed his technical skills in photorealism under the instruction of Kenneth Campbell and Dee J. Lafon. Later, Gaar completed a Master of Education from the University of Central Oklahoma.
Gaar applied his creative expertise in a wide range of career endeavors from fine art to newspaper publishing, custom jewelry design, and graphic design. For years, he worked as the Assistant Director of Editorial Art for The Oklahoman and also served as the Director of the Ada Arts and Heritage Center. Although publishing and computer graphics comes easily to Gaar, his primary interest has always been the fine art of painting.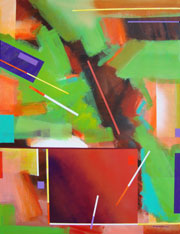 Of his diverse style, Gaar explains, "Artistically, I've enjoyed the best of both worlds, photorealism and abstract expressionism. Since my college days, I've been a devotee of Andrew Wyeth and Franz Kline. To me, these two artists represent the opposite ends of the visual arts spectrum. One achieved the pinnacle of representational art, and the other is the embodiment of gestural expression in paint. I've enjoyed experimenting with these two styles all of my life and delving into variations on each. This, combined with a wide range of subject matter over the years, has been a joyful exploration of art, which continues today."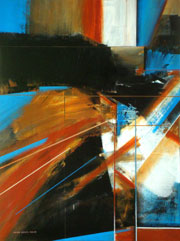 Having painted for over fifty years, Gaar says his artistic process has evolved over the years. He has experimented with a wide variety of methods, from detailed drawings with reference material to a more freestyle, spontaneous process. "I have had varying degrees of success with both methods," says Gaar, "but these days, I'm much better at deciding which method will give me the best intended result, depending on the style and subject matter I've chosen."
Gaar continues to paint from his studio in Tulsa. He is the recipient of numerous regional festival awards for Best of Show. His painting, titled Tailhook, was recently featured in the Concept/OK: Art in Oklahoma exhibition organized by the Oklahoma Visual Arts Coalition.