Jean Richardson
Horse as Icon
East Gallery - March 31 - May 25, 2014
Jean Richardson is an artist best known for her large, abstract paintings of horses. Using a palette of jewel tones and deep earthen hues, she splashes colors across a heavily textured background. Emerging from an explosion of brush strokes, the horses of Richardson's imagination plunge and leap across her canvas. An Oklahoma native, Richardson has had a lifelong interest in Western "myth." Although she uses the contemporary style of modern painting, she finds deep connections to the frontier west. Richardson's horses reflect her prairie roots and her passion for contemporary art.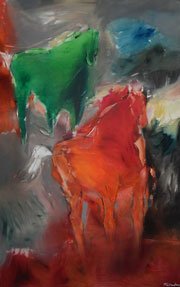 "The image of the horse is the perfect vehicle to express my true subjects: motion and energy," says the artist. "The horse as a real being is lovely in itself, and I enjoy the power, the speed, and the physical beauty of the animal. My paintings, however, take this real image and make it a symbol. The horse as a metaphor for the human spirit; unbridled, striving, sometimes heroic, often restless, full of energy, floating above us, calling us to other realms."
Richardson acknowledges that the horse is not a new theme in art. "Every culture has had, at the center of its stories about itself, a mythical figure of the horse. From the incredible images on the walls of prehistoric caves, to the tales of Norse mythology, to the modern play Equus, the horse has been powerfully represented in the arts. In this tradition, I have tried to explore my subject and find therein my own emotional response."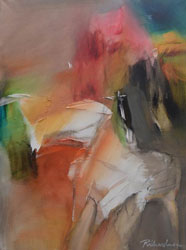 Born in Hollis, Oklahoma, Richardson studied art at Wesleyan College, the Art Students League in New York, and in France. Married, with three children, she returned to her native state in the early 1970s. For a number of years before exploring the icon of the horse, Richardson plunged into Oklahoma history as the subject of her paintings. During this time, she was commissioned by the Oklahoma House of Representatives to create two paintings for the legislative conference rooms at the Capitol.
Richardson's paintings are included in prestigious private and public collections across the country, including Phillips Petroleum Corporation, Washington, D.C.; Arthur Anderson Companies, St. Charles, IL; Marriott Hotels Corporation, Washington, D.C.; AT&T, San Ramon, CA; and many more. Her paintings can be found in numerous galleries from New Mexico, Colorado, Montana, to Massachusetts and beyond.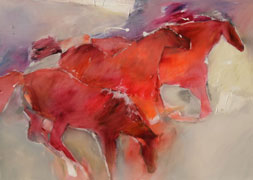 In addition to Richardson's artwork featured in this exhibit, Steppeland Summer can be viewed in the Betty Price Gallery as part of the Oklahoma State Art Collection.