Skip Hill
Selected Works
East Gallery - January 27 - March 23, 2014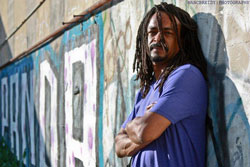 Robert Terrence "Skip" Hill is a visual artist who documents his experiences with various cultures, languages, art history, and popular culture in captivating collage works. Harvesting imagery and design elements from the world's countless forms of cultural expression - from African textiles, Mexican ritual motifs, to Asian calligraphy - Hill creates lyrical pictorials that illustrate his inner vision and outward perception.
Desire to travel has taken Hill all over the world from Mexico, Thailand, and the Netherlands, to Morocco. Those travels and the vast amount of culture Hill has absorbed transfers into his artwork with a surge of international flavor and threads of folk art, jazz, graffiti, and urban motifs.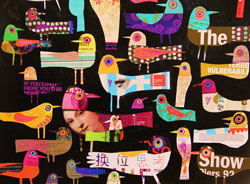 Born and raised in Texas, Hill's talent in art earned him a scholarship to attend Oklahoma City University to study art. He produced award-winning political cartoons for the campus newspaper before quitting school to work in the advertising field. He worked as an illustrator, graphic designer, and creative director, producing radio and television commercials for McDonald's before relocating to Southern California. From there, Hill began to regularly travel, create, and exhibit art all over the world.
After residing in the Netherlands for three years and learning to speak Dutch fluently, Hill relocated to Atlanta, Georgia. With a dream in his heart, yet no resources, he spent several months living in shelters and on the streets of downtown Atlanta. Battling depression, Hill spent this time writing, but produced little art. From there, Hill traveled to Alabama and reunited with his estranged father who introduced him to the work of black outsider artists such as Lonnie Holley, Jimmie Lee Sudduth, and Mose Tolliver. This reawakened Hill's creativity and he began creating art again.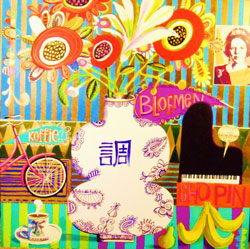 In the mid-1990s, Hill returned to Oklahoma, claiming it at his home. He attended the University of Oklahoma and studied under Native American conceptual artist, Hachivi Edgar Heap of Birds and abstract painter, George Bogart.

The birth of his son further inspired Hill's creativity, and as an illustrator for children's books, he earned recognition from the Dallas Society of Children's Book Writers and Illustrators.
At the start of the millennium, Hill began incorporating collage elements into his paintings, producing the Tattoo Series of paintings, which were shown in Oklahoma, Chicago, Dallas, Houston, and Atlanta where Hill won Best in Show honors at the Atlanta Dogwood Art Festival.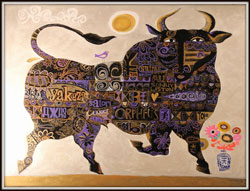 In 2006, Hill received the Margaret M. Dabney Visual Arts Award for Outstanding Achievements from the Black Liberated Arts Center in Oklahoma City. In 2008, Skip Hill: Afro-Modernist Gumbo, a Limited Edition, Hill's first coffee table book was published, in addition to Wrestling With Angels, Part One: A True Story Based On A Lie With Subtitles, a semi-autobiographical, illustrated book of poetry. In 2009, Hill participated in the film Transcend, a documentary and exhibition of African-American artists working in Oklahoma.
Since the start of the new decade, Hill has worked on expanding his series of paintings, including Funky Ikebana Series and Tembo Series. Travels to Brazil in 2012 have spawned a new series titled Under the Mango Tree. Today, Hill's artwork can be found in private and public collections in the United States, United Kingdom, France, Argentina, Brazil, Columbia, and the Netherlands.