Virgil Lampton
Landscapes of the Southwest
East Gallery - August 4 - September 28, 2014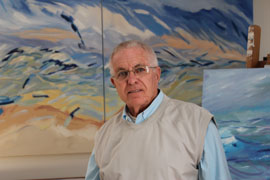 The vibrant colors and textures of Claremore artist Virgil Lampton's paintings sweep across the canvas with dramatic movement, conjuring images of high winds on the plains and approaching storms. Bold hues and varied brush strokes dance on the surface, much like an Oklahoma sunset. The works in this exhibit, titled Landscapes of the Southwest, are inspired by the atmosphere and dramatic weather events in Oklahoma and bordering southwest.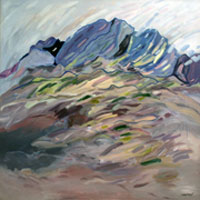 Lampton's paintings combine the American western landscape tradition with abstract expressionism. While his technique shows influence of Dutch American abstract expressionist Willem de Kooning, Lampton's theme and composition recall the stormy seascapes and romanticism of British landscape painter Joseph Mallord William Turner. Of Lampton's paintings, writer Ernest Goldstein once wrote, "In his work, reflected light plays tricks within the landscape. The viewer sees the substance of the landscape, which is at once tangible, and a stormy ocean where hills undulate like waves and vibrate with the colors of the sea. The repetition of large forms erupting in rhythmical motions gives the feeling of nature performing its dance of life and death."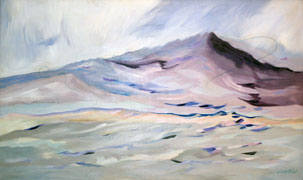 Lampton earned his Bachelor of Arts and Master of Arts degrees from Pittsburg State University in Pittsburg, Kansas, and also studied at the University of Denver and the Kansas City Art Institute. He is Professor Emeritus of the University of Tulsa where he taught from 1971 to 2006. Before settling in Tulsa, Lampton held art faculty positions in Columbus, Kansas; Carthage, Missouri; and Independence, Kansas.

Lampton's artwork has been exhibited in galleries throughout the United States and is included in numerous private collections including the Phillips Collection, in the International Building in New York City's Rockefeller Center, and the Upjohn Company in Tokyo, Japan. He is best known for his landscapes, but Lampton's portfolio includes pure abstract exercises in color and composition as well as drawings, graphics, ceramics, and sculpture.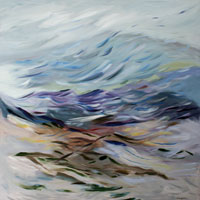 Lampton is the recipient of multiple awards and honors for his work in the arts and education. He was presented with the Arts in Education Award during the 2002 Oklahoma Governor's Arts Awards. In 2006, Lampton was one of four honored at the National Scholastic benefit dinner in New York City. Other honorees that year included Kitty Carlisle Hart, Kathy Bates, and Glenn Close.
Today, Lampton continues to create art from his studio in Claremore. Now retired from teaching, he takes advantage of most every opportunity to travel both nationally and internationally.