Cynthia Brown
Lost in Oklahoma
East Gallery - September 14 - November 15, 2015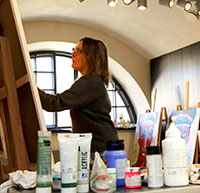 Cynthia Brown begins her mixed media paintings by surrendering to the process of creativity, forgoing any expectations she has for the final product. Using both hands, she starts by making marks that record and trace the visual rhythms generated by connecting with the canvas. Keeping various forms of media near her – pastels, charcoal, graphite, oil pastels, and acrylic paints –Brown chooses the colors that speak to her in the moment. Allowing the painting to develop, she meditates on hopes and dreams that will reverberate onto the canvas through her media. With no preconception of subject, Brown allows the process to develop intuitively.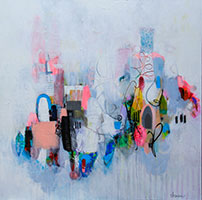 "What I strive for is pure painting," explains Brown, "a visual cacophony of elements merging into an intimate composition where line, shape, color, value, and texture reveal a visual vocabulary. The process of construction and deconstruction continues until reaching a point of resolution, a point where these individual actions coalesce, weaving subconscious imagery and emotion into a final, cohesive, grid-like expression."
For Brown, the act of painting is an act of discovery, trust, and surrender. "Painting is a return to the part of the self that dwells within and beyond visual perception," she explains. "I am not guided by concept, strategy, or intellect. Instead, I am moved by the topography of the unknowable. My paintings are glimpses into my journeys there."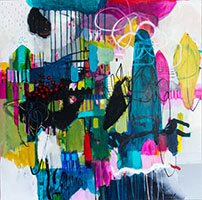 Brown first began painting in the 1970s and continued to explore and work in the medium for many years, eventually earning a Bachelor of Fine Arts in Painting from the University of Tulsa in 1975. Throughout her time of experimentation with the medium of painting, she remained frustrated by it, unable to develop a process with which she felt at peace. Rather than continue in a vein she found unsatisfying, Brown signed up for a few ceramics workshops. Of ceramics, Brown recounts, "Although the work was physically challenging, I enjoyed the process of hand-building. Applying textures and glazes to the surface of clay was somewhat similar to my approach to painting."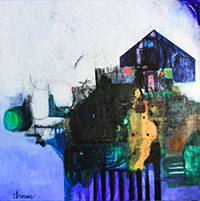 Over twenty years, Brown developed a solid reputation as a ceramicist, even earning a Master of Fine Arts in Ceramics from the University of Tulsa in 2001. However, aware of the frustrated painter still living inside of her, she began dabbling in painting again. Since 2013, Brown has focused full-time on painting, exhibiting her works in various galleries in Oklahoma and the surrounding states. In June 2014, Brown was selected as an Artist in Residence at the Mark Rothko Art Centre in Daugavpils, Latvia. Only eleven artists from around the world were chosen for the program.
Brown works from her studio in Tulsa where she is also an active member of the art community. She contributes her time to Living Arts of Tulsa, Tulsa Artists Coalition, Oklahoma Visual Arts Coalition, and other community organizations.