Tommy Lee Ball
Urban Watercolor
East Gallery - April 27 - June 28, 2015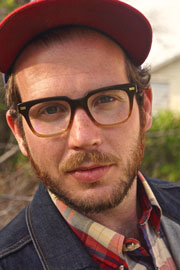 As a child growing up in Sapulpa, Tommy Lee Ball spent a lot of time exploring downtown Tulsa on his bicycle. Through his love of riding and summer night ventures, he developed an admiration of the city's architecture – its angles, shapes, and colors. His exploration continued as he attended college in Chickasha and visited Oklahoma City during his semester breaks. He found that riding at night gave him a different perspective of the lights, their reflections, and neon signs. The paintings included in this exhibition, titled Urban Watercolor, were inspired by the views from Ball's evening bike rides.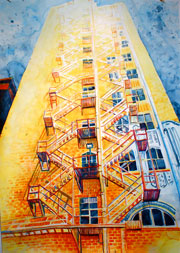 Featuring scenes from Tulsa and Oklahoma City, Ball's watercolor paintings include broad skylines, neighborhood districts, and aerial views. "Downtown Tulsa is architecturally profound and beautiful," says the artist. "The colors that come out from the various night lights, dim or shining, create a scene. Busy but silent, downtown is admirable." To prepare for this exhibition, Ball visited Oklahoma City from his home in Tulsa to capture some of the most recognizable areas of the city like Midtown and the Oklahoma State Capitol. From these scenes, Ball finds his inspiration to paint. His appreciation of beauty and architecture is apparent in his art.
To capture the vivacious color and glowing lights found in urban areas, Ball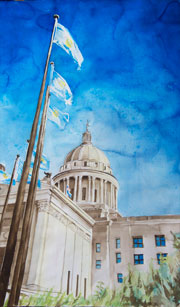 paints with watercolor. Building up layers of transparent pigments from a diverse palette, Ball has mastered his brushwork and detail technique. Patience is a requirement for watercolor painters. Smooth washes are applied to wet paper with wet brush, while clean, concise lines require dry paper and careful application. "The watercolor grants a fresh yet impressionistic value to the beauty of the city," says Ball. "However, it is the architecture above all that is the depth of my inspiration."
When not painting, Ball works as a stonemason. He recently described the influence the trade has on his artwork to writer Laura Reese in a feature article for Art Focus Oklahoma (Volume 29, No. 6). "My job is to see a surface and detect if it is level. I am training my eyes to see details." This work has improved his eye for perspective and composition, and it has allowed him to reevaluate and revise the places he views on a daily basis as he transforms them in paint.

Ball graduated with a Bachelor of Fine Arts from the University of Science and Arts of Oklahoma in Chickasha, Oklahoma. His focus of study was photography, which aids him in his painting. Since graduating, Ball has focused mainly on growing as a painter. His paintings were recently featured in solo exhibitions at Mainline Gallery in Tulsa and Tulsa Artists' Coalition Gallery. In 2012, the Oklahoma Visual Arts Coalition included Ball's home studio on their Tulsa Art Studio Tour, a two-day, annual event providing the public with glimpses of artists at work in their own spaces.