Virginia Stroud
Reflections by Virginia Stroud
East Gallery - February 16 - April 19, 2015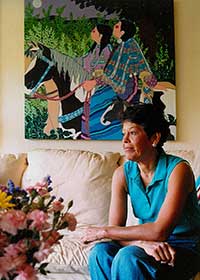 One of America's foremost female contemporary Native American painters, Virginia Stroud lives in Tahlequah, Oklahoma. She is of Creek and Cherokee descent however, her artwork most reflects the plains tribes and her adoptive Kiowa upbringing. Stroud's paintings weave Native American traditional stories together with experiences from her own life.
Stroud was born in Madera, California. After the death of her mother when Stroud was 11 years old, she moved to a children's home in Oklahoma. Renowned Cheyenne painter W. Richard "Dick" West, Sr. was an early influence on her artistic practice as he visited the children's home often. He encouraged Stroud to paint, and she sold her first painting at the age of 13.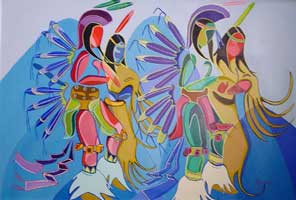 Stroud graduated from Muskogee Central High School in 1969. She went on to formally study under West at Bacone Junior College in Muskogee and also studied elementary education at the University of Oklahoma. In 1969, Stroud served as Miss Cherokee Tribal Princess. She was named Miss National Congress of American Indians in 1970, and in 1971, she was crowned Miss Indian America XVII. Meanwhile, creating art remained her focus.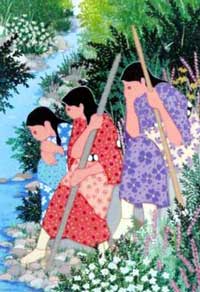 In 1970, Stroud became the youngest Native American artist to receive first place at the 25th Annual American Indian Artists Exhibition at Philbrook Art Center (now Philbrook Museum of Art) in Tulsa. She went on to earn the Heritage Award at the Five Civilized Tribes Museum in Muskogee and first place award at the 30th American Indian National Exhibition at Philbrook. In 1978, she won the award for graphics at the Heard Museum in Pheonix, Arizona, and in 1982, was named Artist of the Year by the Indian Arts and Crafts Association in Albuquerque, New Mexico. Works by Stroud are included in the Smithsonian's archives of living artists and the Fred Jones Jr. Museum of Art at the University of Oklahoma as well as many others. Stroud has also written and illustrated several children's books.
Stroud paints with tempera and gouache on canvas and paper. She draws inspiration from ancient pictographs and historical ledger art as well personal experiences. Her paintings tell stories of Native American women performing traditional everyday tasks while they also mirror her own modern day life. While Stroud raised her two children, many of her paintings focused on the Native American traditions of motherhood.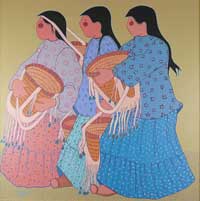 Throughout her career, Stroud has developed a narrative style of painting that incorporates minimal facial features with lavish floral backgrounds. Her use of color has progressed during her career, from the traditional earthy pictorial images of the early eighties to the more brilliant colors she utilizes today.
Of her artwork, Stroud says she sees herself as a storyteller, sharing with others the oldest of Native American traditions. "I paint for my people," she says. "Art is a way for our culture to survive…perhaps the only way."