Keith Murray
Transformation
East Gallery - April 11 - June 12, 2016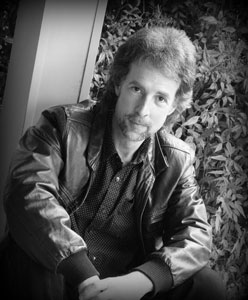 From a very early age, artist Keith Murray was enthralled by the idea of things bigger and more enduring than just himself and his place in the universe. He was born with an appreciation for beauty that was nurtured by his parents. He saw a beautiful, contrasting, authentic drama of life playing with purpose all around him and was compelled to tell that truth in picture form to anyone who would listen.
Murray began oil painting at the age of ten. By the time he was in his early teens, he was completing portrait commissions. The challenge of capturing that elusive "life quality" of his subject on the canvas became his highest aim and the truest test of his skill.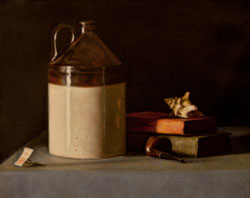 From the smell of the paint thinner and linen to the way the paint feels as it glides across the surface of a taut canvas, the experience of painting for Murray is sometimes almost magical. "What I love most is when I become lost in a moment of time and at one with my subject," explains Murray. "It gives me the opportunity to simultaneously express my thoughts and feelings and communicate them without words."
"Technical ability is very important to me," Murray says. "It's something I always strive to master. But even more importantly is that special something, that soul, that essence, that spark of a subject that can't be captured by studious execution alone. It has to be seen, felt, and held in the heart as the noblest attribute. Only in putting that quality first can an artist hope to be able to channel its energy onto the canvas. And without it, any work, no matter how grand or epic or skillfully done, is dead."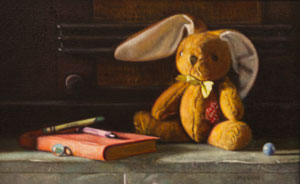 A native of Oklahoma, Murray graduated from Southeastern Oklahoma State University in Durant with a degree in art. He went on to attend graduate school at West Texas State University in Canyon, Texas for one year. However, his quest for that "life beyond the image" would not find fruition until 1993 when he began studying with classical realist Kirk Richards in Amarillo, Texas. For the next six years, Murray faced the daunting task of unlearning much of what he had been taught by the system. It was through this rigorous training that Murray began to find his focus and direction, and not surprisingly, his art began to blossom.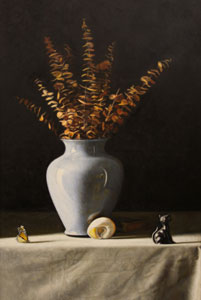 At a glance, it's easy to see the strong, classical quality of Murray's artwork. Though highly traditional, his paintings never fail to translate as fresh and lively. Capturing "the spark," as he puts it, is key. And when filtered through the complex, mental latticework of symbolism, that inner spark yields paintings with the kind of presence that, despite constantly changing fad and fashion, will undoubtedly stand the test of time.
Over the last twenty years, Murray's artwork has been included in a variety of juried exhibitions in the region. He has earned the title of Best of Show at The Goddard Center 42nd Annual Juried Exhibition in Ardmore, Bartlesville Art Association Show, Madill Annual Art Show, Artists of the Arbuckle's Annual Show in Sulphur, and Best of the Southwest in Amarillo, Texas. His artwork has also been featured in galleries across the country. In addition to painting, Murray occasionally serves as a drawing instructor or lecturer at local art institutions. He currently resides in Sulphur.