Michael L. Nicholson
Affinity Works: Home Lands
East Gallery - February 1 - April 3, 2016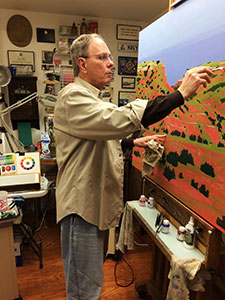 Michael L. Nicholson has devoted his career to landscape painting since 1975. He developed an appreciation for the vast array of scenery in Oklahoma as his family moved throughout the state during his upbringing. As a child living in the southeastern towns of McAlester, Krebs, and Stuart, Nicholson grew to love the rolling hills and monumental wheat fields. During the summers in the mid-1950s, as Nicholson's father earned his graduate degree at the University of Oklahoma in Norman, his family lived in Sooner City, a plywood, prefabricated housing development on campus for veterans of World War II and Korea. There, Nicholson began to enjoy the running waters of small creeks.
Nicholson completed high school in the north-central Oklahoma town of Newkirk as his father worked for the Bureau of Indian Affairs at Chilocco Indian Agricultural School. After graduation, he studied art and design at Northwestern State University in Alva and the University of Oklahoma before enlisting in the United States Navy and serving in Vietnam. After returning to the United States, Nicholson earned a Bachelor of Fine Arts in Painting and Drawing from Wichita State University in Kansas. A lifetime of scenery had been accumulated by the age of 30 for Nicholson, and he was well prepared to begin expressing that through painting.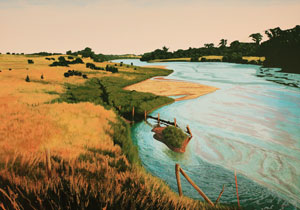 The painting technique Nicholson employs is a combination on on-site plein air painting, as practiced by the French Impressionists, in addition to traditional studio painting like the Old Masters. While at the scene, Nicholson uses pencil, bristol board, and gesso to create quick sketches and captures photographs and videos of the subject. Back in the studio, he screens the videos, flooding the space with sounds and imagery from the videos, and he begins creating storyboards of possible visual directions.
"I'm not necessarily interested in fidelity to the original image of nature as much as I am with more of an anecdotal exposition," Nicholson explains.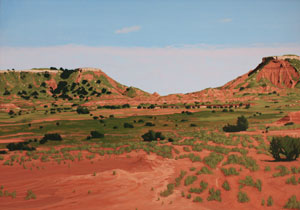 From the on-site research combined with Nicholson's creative direction, bold and graphic images that parallel life are grown. From here, Nicholson completes his final acrylic or oil paintings on canvas or paper. For the majority of his smaller paintings, Nicholson prefers the medium of acrylic on 100% Cotton Arches 140 lb. hot-pressed paper. Acrylic, a polymer emulsion paint, allows Nicholson to apply thin, transparent washes like a watercolor in combination with the rich, thick impasto of an oil painting. Acrylics also dry quickly and retain an immediate, durable vibrancy. Nicholson complements this by using a commercially prepared acrylic gesso that, when sanded, creates a smooth, brilliant surface upon which to paint. The flexibility of this gesso ground permits him to erase or change an image with ease and build up layers of paint to create the rich tonalities that punctuate his artwork.
After residing in Wichita for 30 years, Nicholson and his family returned to Oklahoma and settled in Edmond. He is fully focused on painting the lands and skies of Oklahoma and Kansas. When not physically working in the field or studio, he says he is always thinking about it.