Restoring the Oklahoma State Capitol
Governor's Gallery


A Century of Service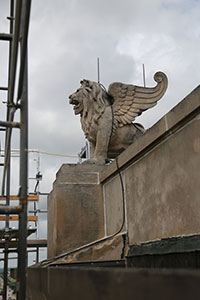 Home to two branches of state government and vast collections of priceless artwork, the Oklahoma State Capitol is itself a work of art, arguably more uniquely Oklahoman than any other Oklahoma building. Built between 1914 and 1917, it was the grandest achievement of a young state.
After a century of heavy use, harsh Oklahoma weather, and inconsistent maintenance and preservation efforts, the prospects of the Capitol meeting the state's needs for another one hundred years began fading as mechanical systems failed and the exterior façade began crumbling.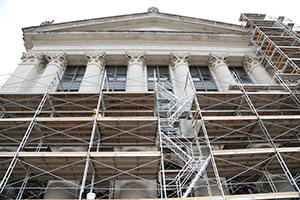 In 2014, recognizing the need to act, Governor Mary Fallin and the state Legislature enacted legislation to provide funding for the Capitol's first-ever comprehensive, top-to-bottom restoration. In 2015, JE Dunn Construction began work on the exterior of the building, and Manhattan Construction began work on the interior.
Documenting the Restoration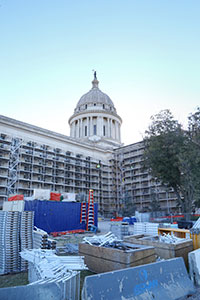 As the multi-year Capitol restoration project unfolds, photographers Stuart Ostler and Erin McGregor of the Oklahoma Legislative Service Bureau will chronicle the extensive work being conducted. In conjunction, the Oklahoma Arts Council is pleased to curate a rotating selection of Ostler's and McGregor's photographs, displaying them in the Governor's Gallery for Capitol staff and the public to view.
Encompassing a documentary-style approach, exhibition images will offer an intimate vantage point from which the viewer may examine the intricacies, complexities, and scale of the work being performed to prepare the Capitol to serve Oklahoma for the next century. In addition to documenting the project's transient moments and proffering unique vignettes, images will uncover long-forgotten stories of the Capitol's past and connect them to our investment in its future.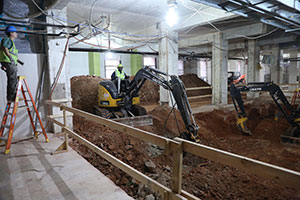 Located on the second floor of the Capitol, adjacent to the Governor's Blue Room, the Governor's Gallery is open weekdays from 8:30 a.m. to 5:00 p.m. Exhibitions will rotate approximately every 60 days.
Sponsored in part by JE Dunn Construction and Manhattan Construction, the exhibitions are curated by the Oklahoma Arts Council.