Don Emrick
Found In Abstraction
North Gallery - August 17 ? October 18, 2009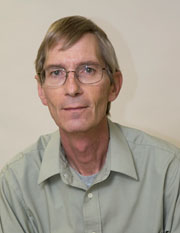 Wassily Kandinsky, the great Russian painter, believed that colors in art and their various combinations could express emotion and impact the viewer's mood. The German painter Paul Klee was primarily a black and white draftsman until he discovered the command of color and spent much of his remaining career studying, understanding, and experimenting with color theory and mixing. In 1810, German author and painter Johann Wolfgang Goethe published his scientific study of color theory which was considered his most important work. Each of these artists made a significant and historical impact in art and color theory.
Don Emrick's current exhibit titled Found in Abstraction continues the experimentation and observation of the magnificence of color. He says the color theories of the aforementioned artists "often open his mind and eyes to the possibilities revealed by the camera."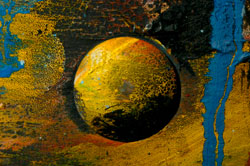 The subject matter of Emrick's photography in this exhibit can be considered "found art." Many of the images originated from splatters of paint which have built up over the years on tables and easels in the Art Department at Rogers State University in Claremore, Oklahoma where Emrick is a photography instructor. Other images in this exhibit originated from stained paper and urban decay which Emrick has observed. Using a close-up camera lens, Emrick selects small portions of the subject matter, photographs them, and artistically manipulates the images on the computer. Although in some cases, he has found images that are so abstract and naturally appealing that no manipulation is necessary.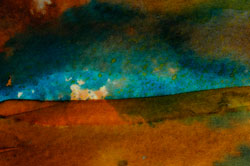 The images in this exhibit were photographed using a macro lens, which is a camera lens specifically designed to focus close-up on very small subjects. Many of the paint splatters on which Emrick chose to focus are often no larger than a fingernail. Macro photography is a popular form of art made famous by sharp pictures of tiny insects or drops of water on a delicate flower petal.
Emrick started this body of work because he was compelled by the small particles of paint and the randomness of the splatters of color. He is motivated to explore the beauty and abstraction of the found image rather than imitate of duplicate it. The photography of Siskind, Callahan, and Gursky, to name a few, are inspirations to Emrick's artwork.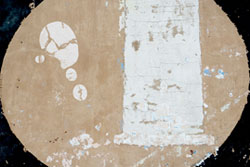 Emrick was born in Crookston, Minnesota, and his family settled in Oklahoma in 1971. After graduating from Bixby High School, he attended the University of Oklahoma where he earned a B.A. and an M.A in Journalism & Mass Communications while he also studied fine art photography at OU's School of Art. Emrick has worked for the Tulsa World newspaper and the Tulsa Tribune. He currently teaches both film and digital photography at Tulsa Community College in addition to Rogers State University.
Emrick's photography has been featured in numerous solo exhibits, and he has participated in various group shows, including one in Sheffield, England in 2008. He is an active member of Oklahoma's art community as the Vice President of the Tulsa Artists' Coalition and a member of the Editorial Committee for Art Focus magazine, a publication of the Oklahoma Visual Arts Coalition.