Ken Crowder
25 Days: Photographs of Oklahoma
North Gallery - June 8 ? August 9, 2009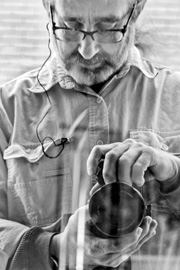 Tonkawa photographer Ken Crowder says, "A beginning photographer will often take a photograph without really looking; an intermediate photographer will use their eyes before they use their camera; and, an advanced photographer will use their heart before they use their eyes."
As a photographer, Crowder finds joy when he is standing in front of an image that speaks to his heart. "The feeling is always the same, though the images are different. It is a quickening of my senses, and an almost immediate focus of my attention," says Crowder. "At that point, I try to become a working partner with the image to bring it safely home to share."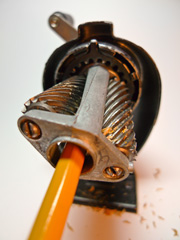 Crowder learned the basics of photography from his father in the 1960s and continued his photographic education at Oklahoma State University and the U.S. Naval School of Photography. Since then, he has spent little of his professional life outside of the darkroom or without a camera in his hand. He is currently a self-employed commercial, portrait, and fine art photographer and an adjunct instructor of photography at Northern Oklahoma College
in Tonkawa.
January 1, 2009 began a new era in Crowder's photography. Having spent much of 2007 and 2008 helping clean out his parent's house, making the seemingly countless decisions of "keep it" or "throw it," and constantly reliving family memories, Crowder began to find himself creatively burned out. Searching for something to reinvigorate his photography, Crowder made the commitment to start the "Photo a Day" project on January 1. The basic idea of the project is to take at least one photograph of artistic merit every day for one year.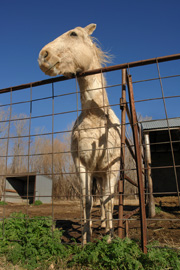 The project has forced Crowder to pick up his camera every day and search his atmosphere for images that catch his interest. "I've noticed an increased awareness of my surroundings," says Crowder, "and I'm sure that I am seeing images I might not have noticed before or wouldn't have had my camera with me to photograph it. I carry at least one camera with me almost everywhere I go now."
This exhibit, 25 Days: Photographs of Oklahoma, features select digital photographs from the "Photo a Day" project. The photographs are presented in chronological order with titles derived from the date the photograph was taken.
Crowder names Ansel Adams, an iconic American photographer who worked mostly in black-and-white, as a major influence of his work. "Adams approached his black-and-white photography without restrictions or being tied down to reality," says Crowder. Even before the days of Photoshop, "Adams almost always changed the tonal values in a photograph. He would strive to have very dark blacks and very clean whites and as many shades of gray as possible in between. In the end, if you look at the subject in reality, it wouldn't look anything like the final photograph."