Samantha Lamb
Lion, Light, Lamb: The Perpetual Picnic Part II
North Gallery - October 26 ? December 27, 2009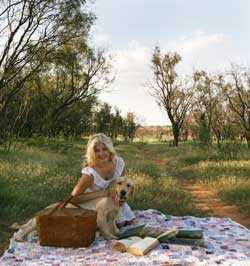 Samantha Lamb is a native Oklahoman who graduated with a degree in Photographic Arts and Journalism from the University of Central Oklahoma. In addition to her formal art training, she gained valuable photographic experience as chief photographer for OK Travel, creative director/photographer for the Dell D-Life Campaign and as photographer for Oklahoma Agritourism, a joint program between the Oklahoma Department of Agriculture, Food and Forestry and the Oklahoma Tourism and Recreation Department.
While traveling throughout the state for the Oklahoma Agritourism Program, Lamb found inspiration from the state's beautiful landscape. Recently, she rediscovered her connection to her rural roots by purchasing a small farm in Hobart, located in the southwestern region of the state. Lamb harvests her own honey, sews her own quilts and makes her own goat cheese on her farm. In addition to raising chickens, Lamb is dedicated to her full-time career as a photographer.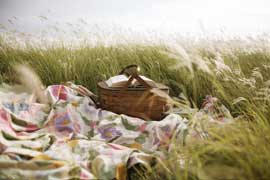 Having grown up around farms, Lamb is deeply rooted in the agricultural life. She incorporates the beauty of the farm in her photographs with imagery of bluebonnet fields, meadow grass and Oklahoma sunrises.
"The farm has been a wellspring of inspiration for my photography," says Lamb. She finds the most inspiration from the morning light which is a mainstay in her images. "The morning is the time when I feel most creative. Morning light illuminating one's life is something that needs to be captured and kept. That is what I'm trying to do with my photographs."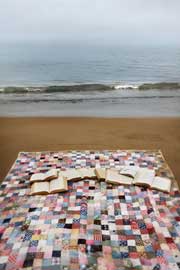 This series of work, titled Lion, Light, Lamb: The Perpetual Picnic Part II, is inspired by the peaceful and beautiful scenes of rural life. For each photograph, Lamb stages the scene and waits patiently for the luminous morning light along the Oklahoma horizon. Lamb's imagery combines the natural beauty of the landscape with sentimental objects which remind her of home, such as pocket watches, freshly gathered eggs, banjos, patchwork quilts and homegrown peaches.
The delicate beauty found in Lamb's imagery can also be attributed to her technical process. Lamb usually shoots at a shallow depth of field so that part of the photograph is in sharp focus with other areas remaining blurred. In addition, her photographs are printed on metallic paper which allows the natural sunlight to come alive and shimmer as the eye moves across the image.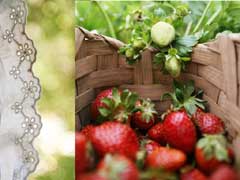 Lamb's photographs are part of permanent installations at the Children's Crisis Center in Oklahoma City as well as The Purl Bee in New York City. Her work has been featured in solo exhibits at The Circle Gallery at City Arts Center and 611 Creative in Oklahoma City. In addition to photography, Lamb is also a performance artist and bluegrass musician.