Traci Martin
A Meditation On/Through Colour
North Gallery - January 19 thru March 22, 2009
Ardmore artist Traci Martin has always had a fascination with the power of color. In A Meditation On/Through Colour, Martin's intent is to promote recognition and appreciation for the spiritual quality and raw power of color using her own photography as a visual narrative.
"A Meditation On/Through Colour is my personal artistic record of the intersection of color inherent in common, everyday settings. This tragically unrealized beauty hides before our very eyes," explained Martin.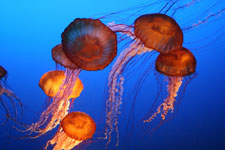 "The intensity of the aesthetic experience is most obvious, and perhaps strongest, in the use of complimentary colors. The points of visual interest generated by the use of color within a composition evoke a sense of drama or excitement. In this series, a poetic contrast unfolds in the juxtaposition of fiery, violent blues, reds, and oranges with the grace and fluidity of the jellyfish."
Martin described how the complimentary colors "meet with a harsh beauty while the intensity is immediately countered by the soft lines of the natural movement of the subject. There is an intricate and subtle paradox where the complimentary and contrasting colors exist simultaneously with a polarized energy. The static blue provides a ground for a vibrant symphony of color, ranging from the brightest burning orange to the cold and rigid charcoal. Even in the seemingly colorless depiction of the jellyfish, the glowing red embers burst out from the shadows, enhancing the stark and lively silhouette."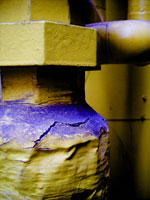 Martin's work is featured in private and public collections both regionally and throughout the United States. Martin has received numerous awards and scholarships for her artwork and has participated and placed in many regional art exhibits and juried shows including the Great Plains Juried Exhibit, Goddard Center Annual Juried Exhibit, Cross Timbers Small Works show, Artplace's Red Hot Art, Multiple Exposures Photography Group Exhibit and many more.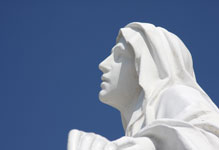 Originally from Oregon, Martin has lived in the Ardmore area for about 12 years. In 2007, Martin co-founded Studio 107 in Ardmore with Susan Pfau Yeager. Martin is also an art educator who works as a private tutor for local students. She graduated in 2005 from Southeastern Oklahoma State University with a Bachelor of Fine Arts degree in Studio Art and a minor in Psychology, with an emphasis in Art Therapy. During her college years, she served as an art instructor and tutor for student workshops in both private and public school settings. Following graduation, Martin worked for the Charles B. Goddard Center for the Visual and Performing Arts in Ardmore as Assistant Director and Educational Coordinator for two years.