A Time of Protection, Lithographs & Drawings by
Katherine Liontas-Warren
North Gallery - December 20 - February 20, 2011
This exhibit includes drawings and lithographs by Lawton artist Katherine Liontas-Warren. Much of Liontas-Warren's art features images of nature such as birds and tornadoes. The artist says these images represent experiences and metaphors from her life. Color is added to some prints and drawings to emphasize a mood or mystery within the composition. Some prints are black and white, which celebrate the graphic history of early illustration in printmaking. Liontas-Warren says all of her drawings and prints are connected by various themes celebrating a love of the process of making art.
Liontas-Warren began drawing at an early age. She had her first experience with lithography as an undergraduate student at Southern Connecticut State University. She says, "I was immediately taken by this beautiful method of drawing on a stone." From then on, she says, "I was determined to be a lithographer." She continued to study lithography in graduate school at Texas Tech and began her career in art as a visiting artist at Cameron University in Lawton. In 1984, she became a professor of drawing and printmaking at Cameron and continues to teach the process there today.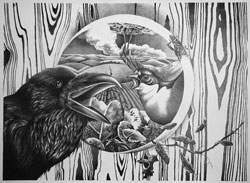 For the past 26 years, Liontas-Warren has exhibited in 18 solo shows and 205 national and regional juried competitive exhibitions throughout the United States and Europe. She has received numerous purchase and juried awards. Many of her drawings and prints are in permanent collections, university galleries and private institutions throughout the nation including: Austin Peay University; University of Texas at Tyler; Arkansas Art Center; Oklahoma State University; Quartz Mountain Lodge; University of Colorado; University of North Dakota; Del Mar College; Texas Tech University; University of Wisconsin-Madison; Whitman College in Walla Walla; Veterans Hospital in Oklahoma City; Young Eye Institute; Butler Community College, El Dorado, Kansas; University of Science and Arts of Oklahoma; and, the Milwaukee Museum of Art.
Liontas-Warren's exhibitions have been displayed at the Longview Museum, TX; Midwestern State University, TX; Ball State, University, Indiana; Florida State University; Moorhead State University, Minnesota; Kilgore College; East Central State University, TX; Odessa College, TX; Leslie Powell Art Gallery; Goddard Center for Visual Arts; Kirkpatrick Museum; and the Bruno Art Conservatory Museum in Czechoslovakia Republic. Liontas-Warren has two drawings included in the second edition of Drawing from Observation, a textbook by Brian Curtis.
Liontas-Warren is a member of numerous professional organizations including Oklahoma Visual Arts Coalition; National Museum of Women in the Arts, Washington, D.C.; Inkteraction: International Printmakers, Virtual Gallery; and Individual Artists of Oklahoma, Oklahoma City. In November, Liontas-Warren was named the 2010 Artist of the Year by the Paseo Arts Association.
The Process of Lithography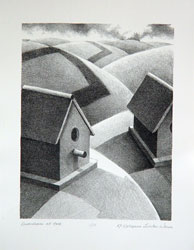 Lithography is a form of printmaking. The literal definition of the word lithography is "stone drawing." This type of print is made by drawing or painting onto the surface of a limestone using greasy crayon or liquid wash. The substances make some areas of the stone accept ink and other parts repel ink. Once the drawing is complete, the stone is inked and run through a press to transfer the ink from the stone to the paper creating a print. Lithography is best known for its flat painterly surface and allows colors to appear smooth and uniform in tone. A separate stone is required for each color within a print.
Many prints of the drawing on the stone may be produced. The total number of prints made is referred to as the "edition." The edition number is the bottom number in the fraction written below each print. The top number refers to the order in which that specific print was produced. For instance, 1/20 is the first print out of twenty total prints while 10/20 is the tenth out of twenty. The order is important because the image on the stone will degrade with use. The first prints are often the crispest and therefore most in demand.
The earliest form of printmaking occurred in China during the 9th century. Over the centuries the practice has continued to develop as both a method of reproduction as well as an art form in itself.
Reproductive prints replicate a work created in another medium, such as drawing and painting. This kind of print was widely used from the 16th century until the invention of photography in the 19th century. The reproductive print was used as a form of reference to ensure consistency in representations such as religious or biblical scenes. Art was the way to record history and making prints of the art allowed people to collect recorded history.
Upon the invention of photographic techniques in the 19th century, the expense and time consumption of lithography was no longer the leading method for reproduction. Around this time, artists began using printmaking as an art form. Prints that are created as an original composition rather than a copy of another artwork are called original or fine prints. The prints included in this exhibit by Katherine Liontas-Warren are original prints.