Romy Owens
The Reconstructionist Effort
North Gallery - March 15 - May 16, 2010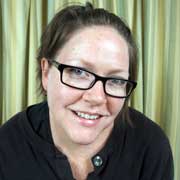 Since 2007 much of Romy Owens' photography has been focused on the often overlooked elements of urban decay- the "bumps and bruises" on exterior walls that city structures acquire over time. She is attracted to images such as the faded paint, cracked texture, and repeated patterns found throughout an aging city. It is in these weathered details that Owens finds her stories. She photographs with reverence, capturing the scars of the city with the same respect one would use to observe the creases in the face of a grandparent. The scars are symbols of history that draw Owens in for a closer look. Capturing the photo is only the first step in the process for the artwork that makes up this exhibit, titled The Reconstructionist Effort.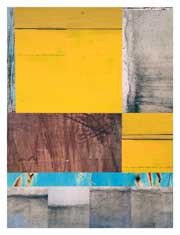 From the collected photographs Owens creates a large arrangement, piecing the images together, balancing color and texture while creating patterns and grids, much like a quilter would do with various patterns of fabric. By use of meticulous scoring and hand needlework, the photographs unite, each with its own tiny detail of urban history. The patterns of threadwork bring attention to the marriage of each component with stark, bold lines. The final product: a geometric display of both chaos and order.
The compositions echo the influential styles of Abstract Expressionism and postmodern photography. While Owens claims the photo collages of David Hockney and Doug and Mike Starn as influences, the method of hand-sewing photographs together was an idea born in her mind. The thread creates a permanent bond between the photographs, and Owens enjoys the meditative and peaceful process of sewing.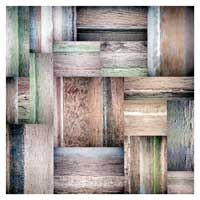 Owens grew up in Enid, has lived in the Netherlands and New York City, among other places, and finally settled in Oklahoma City in 1996. She made the decision to become an artist late in life and earned her Master of Arts in Photography from Oklahoma City University in 2005. She has made a name for herself as an artist and curator. Projects like 60 Artists: 60 Minutes, in which she gave 60 Oklahoma artists one hour to photograph downtown Oklahoma City as they see it, and The Mission, an exhibit benefiting youth and family services, have earned Owens the title of "40 under 40" by Oklahoma Magazine and "Forty under 40" by OKCBiz.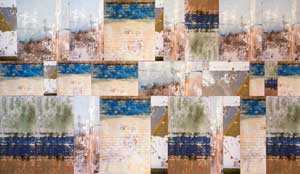 Owens began exhibiting her artwork in 2006. Past exhibits include L*O*V*E*: A Four Letter Word at the Invited Artists Gallery in Oklahoma City; 24 Works on Paper, an exhibit which tours statewide; and a recent solo exhibit titled Fear Not the Needle at Oklahoma City's AKA Gallery. In 2009 Owens earned the title of Emerging Curator for Momentum: Art Doesn't Stand Still, coordinated by the Oklahoma Visual Arts Coalition.