Caryl Morgan
Interstate Icons & Other Roadside Attractions
North Gallery - December 5, 201 - February 5, 2012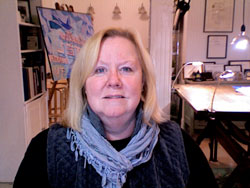 Interstate Icons & Other Roadside Attractions, by Newkirk artist Caryl Morgan, pays homage to the American road trip. "American travel is making a comeback because the economy has dictated the need to streamline budgets," says the artist. "The family vacation is no longer a plane trip to an exotic beach but is as simple as hopping into the car and away you go with adventure opportunities everywhere along the winding road."
Morgan is a contemporary watercolor artist. Traditionally, the medium of watercolor has been identified with quick transparent washes and landscapes. While the medium was historically treated as a color-sketching medium in preparation for an oil painting, watercolor today is its own painting genre. Applied to contemporary subjects and styles the media allows the artist to create vivid paintings that are illuminated by the paper beneath the paint.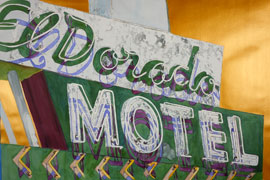 Saturated color is the hallmark of Morgan's current series. "The pieces selected for this show represent my interest in vintage signage found along or near our highways," says Morgan. "There is a haunting allure in seeing a sign that remains in place long after the business has faded. I like to present angled perspectives with strong shadow and contrast to show the viewer that art can be found in objects of daily life by looking at the object differently."
Morgan photographed well over two hundred signs in an eight state area in preparation for painting this series. "As I painted these signs I began to wonder why these motels with themes sprang up along the highways. I searched antique shops for vintage postcards sent from travel destinations to the 'folks' back home. From postcards, family photographs, and my photographs from travel, I created photo collages, transferring them as mono prints to watercolor paper, and then painted them. This process enabled me to create my own social, literary, art history and vacation cliches suggesting the reasons people travel while still retaining the style of a vintage postcard."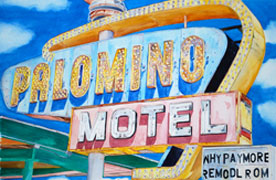 Morgan was born and raised in Tulsa, Oklahoma. She graduated from Oklahoma State University with a Bachelor's in Art Education. She taught art at Arkansas City High School, Arkansas City, Kansas for 31 years before taking early retirement to pursue her personal art career. Morgan opened Earth Road Graphics Design Studio in Newkirk, Oklahoma's historic district in 2006. The studio serves as a graphic design business and Morgan's painting studio. She currently serves as vice president for the Watercolor USA Honor Society based in Springfield, Missouri and is a member of the Oklahoma Visual Arts Coalition, Kansas Watercolor Society, Oklahoma Watermedia Society, American Watercolor Society, Newkirk Main Street Authority and is a contributing artist to the Art-O-Mat Project. Her work is represented in private and corporate collections as well as permanent museum collections.
Click here to view Oklavision.tv's interview with Caryl Morgan
Click her to view Curator Alyson Moses' interview with Oklavision about Caryl Morgan's exhibit.