Gigi Renee' Webb
Rural America
North Gallery - September 23 - November 27, 2011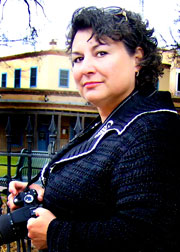 Maysville photographer Gigi Renee' Webb says, "As a young girl and young adult, the camera was a way for me to record my life's experiences." When she would show her photographs to friends and family, storytelling sessions often ensued of the challenges, successes, travels, loves, and losses of everyone's different experiences. Webb says these moments are what inspired her to reflect on her life and develop her passion for photography into a career in the fine arts.
"I use the camera as a way to create art that will touch memories," says Webb, "thus, stimulating a sense of comfort or conflict at a very personal level. My hope is that the emotional response will inspire others to reflect on their lives with a sense of passion. The kind of passion needed to fulfill dreams."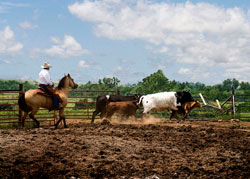 In this exhibit, titled Rural America, Webb documents her reflections on life in rural Oklahoma. The images include the people, places, and culture of small town Oklahoma. Webb uses her creative eye and knowledge of camera techniques to add a surrealist touch to her images. "Personal attention to the elements of exposure as well as the details of digital processing is key," she says.

In all her collections of photographs, Webb uses exposure, composition, and color management to communicate her view while hoping to invoke thought by those who look at her art.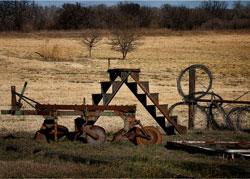 Webb has over twenty years of experience with photography. She has spent much of the last several years experimenting with and perfecting techniques for digital photography. Over the last five years Webb has used her expertise to teach classes and workshops on digital photography at institutions such as Pauls Valley Alternative Academy, Mid-America Vo-Tech in Wayne, OK, Garvin County Camera Club, and the Pauls Valley Arts Council.
Webb maintains memberships to the Oklahoma Visual Arts Coalition, International Photography Hall of Fame, Pauls Valley Arts Council, and Artists of the Arbuckle. She is a resident artist at the Stark Art Gallery in Pauls Valley and has recently exhibited at Adalante! Gallery and Visions in the Paseo.
Click here to veiw an Oklavision.tv interveiw with Gigi Renee' Webb.