Jim Richey Just Down the Road
North Gallery - February 28 – May 1, 2011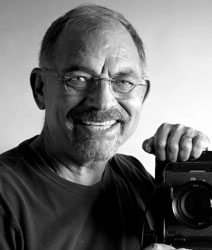 Photographer Jim Richey, a resident of Alva, captured images of his surroundings in northwest Oklahoma for this exhibit titled Just Down the Road. Richey has traveled throughout the country and abroad and visited many exotic destinations, but it is his contention that beauty is all around us if we have the eyes to see it, even in the plainest of places. "In my corner of Oklahoma," says the artist, "you will find the kind of simple beauty that is often ignored by the passerby – stunning skyscapes, sweeping panoramas, photogenic abandoned barns and houses, gypsum-capped buttes, wide rivers and bizarre eroded hoodoo formations – all illuminated by a wonderful intense light."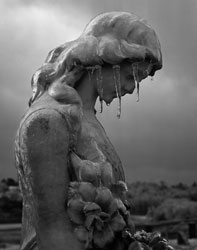 A majority of Richey's black and white images are captured on film with traditional large format photographic equipment. After development, the negatives are scanned, adjusted, and printed digitally using archival inks. His photographic process takes the best from traditional film and modern digital technologies.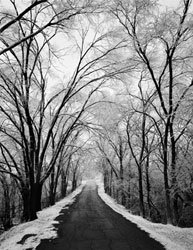 Richey's interest in photography first developed in high school when he was a member of the photo club and recruited as the photographer for the annual yearbook. After college at Northwestern Oklahoma State University in Alva, Richey spent thirty years working for Conoco before retiring in 1996; however, all the while, he had a parallel career in photography, commercial illustration, and graphic design. He has illustrated and edited the Methods of Work column in Fine Woodworking Magazine since 1975. Richey has studied with Joe Englander and George DeWolfe and honed his skills at the Santa Fe Photography Workshops. He draws inspiration from the writings and works of photographic giants such as Ansel Adams, Edward Weston, and Paul Strand.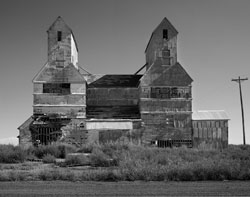 Richey's photography has been exhibited at the ConocoPhillips Headquarters in Houston, the Hubbard Museum of the West in New Mexico, and numerous art shows in Oklahoma, Kansas, and Colorado. His photographs have received top honors at Mayfest in Tulsa, the Wichita Riverfest, and the Paseo Arts Festival in Oklahoma City. Richey was recently the featured artist at the Frame Gallery in Alva.
Richey and his wife divide their time between their hometown of Alva and South Fork, Colorado where they own a cabin. The majority of Richey's images are drawn from these two areas.