Stacey D. Miller Evanescence
North Gallery - May 9 - July 10, 2011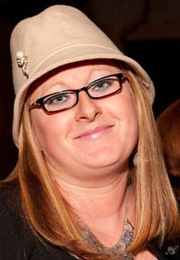 This exhibit, titled Evanescence, is comprised of a series of monotype prints by Shawnee artist Stacey D. Miller. The common theme of the hummingbird signifies the fragility of life and how quickly it can flee. Of the theme, Miller says, "The prints came to life almost immediately after the passing of my grandmother, a loss that had more impact on me than I could have expected." After the loss, Miller searched for solitude to reflect on life and her memories. She found it in the art studio. "Within this body of work, I have attempted to deconstruct the complexities of my life and the impressions that have flooded my consciousness, and to simplify these impressions in an attempt to unearth new truths and find moments of rest."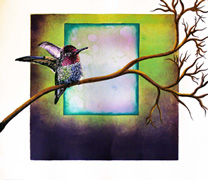 Miller says she has little preconception about the finished product before she begins each print. She says that letting go of that expectation "allows a subconscious narrative to develop that transcends the images made. It often takes weeks of observation and experimentation for me to decipher the symbolism of my creative process. Hopefully my art will ignite a spark in the viewer's mind, triggering stories and imaginations of their own."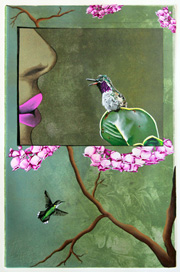 Monotype printing is a unique form of printmaking which differs from the rest because the result is a single print rather than a group or edition. When creating a monotype, the artist uses a smooth flat surface such as an acrylic or metal sheet, referred to as the plate. The image is painted directly on the plate using ink, in this case the ink is oil-based but water-based ink can also be used. The artist may use brushes or rollers (also called brayers) to create the image on the plate. Once the image is applied, paper is placed over the plate and run through the press where the ink is transferred from the plate to the paper. The process of running the plate through the press is referred to as a drop. When creating a monotype, the artist may run several drops with many layers of color to create the print. For each drop, the paper must be lined up in exactly the same spot on the plate every time. Lining the paper up is called registration. Registration can be the most challenging technicality of the printing process. For the monotypes in this series, Miller executed anywhere from 20 to 40 drops for each print.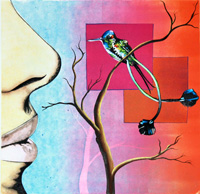 Miller began her career in art at the age of 15 as an apprentice to master ceramicist Don Poole. From there she went on to study fine arts at East Central University in Ada. She is currently the print studio manager at Untitled [Artspace] in Oklahoma City. Miller has worked with and assisted numerous national and international artists. She has exhibited her artwork nationally, and her works have been acquired by educational institutions, companies, and private collectors nationwide.